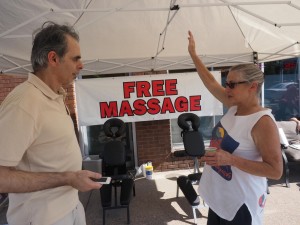 The Twin Cities are home to 17 fortune 500 companies. Having the most fortune 500 companies per capita, this means our work force should be celebrated and treated great for all their hard work and helping our Minnesota economy stay strong. We are home to United Health Group, Target, Best Buy, CHS, 3M, General Mills, just to name a few. If you are deciding to have a corporate event for your staff, then you are going to want to have some
When you run a successful business you have to keep your employees happy, and to do so you need to give them perks. Having a massage chair at an office party, or once a quarter have a wellness event at the office to provide your employees with benefits of massage.
Make your next event super special by offering your guests, clients and participants access to professional seated chair massage give by one of our chair massage specialists. Chair massage is a great option because it requires only a small area to set up the massage chair.
It's also memorable, fun, interactive and it feels so good!
Chair massage improves productivity, morale and reduces the number of work-related injuries caused by fatigue, poor posture, neck and shoulder pain, and overuse of the hands and wrists. When employees feel good, negativity in the workplace goes down and customers get better service. Chair massage is an easy to implement, but effective way to help employees deal with these stressful times!
St. Paul Chiropractic & Natural Medicine Center in Saint Paul, Minnesota, takes pride in delivering compassionate care for every one of our clients, and everyone in your work space. We have great equipment, and massage chairs that can be moved to your facility during all events. We also have a fully trained chiropractor and support staff, you have everything you need to feel better and live the life you deserve.
During events our staff will perform 15 minute chair massages to help give your employees a mental break. This will give them a few minutes to relax and forget about the stress that they're dealing with at work or home.
If you are looking for a great gift for your employees consider St. Paul Chiropractic & Natural Medicine Center in Saint Paul, Minnesota. We provide the best service in the industry and are willing to work with you and your staff no matter how many people or what size. Give us a call today to schedule your event.