Get aligned by a St. Paul Minnesota Chiropractor Who Cares!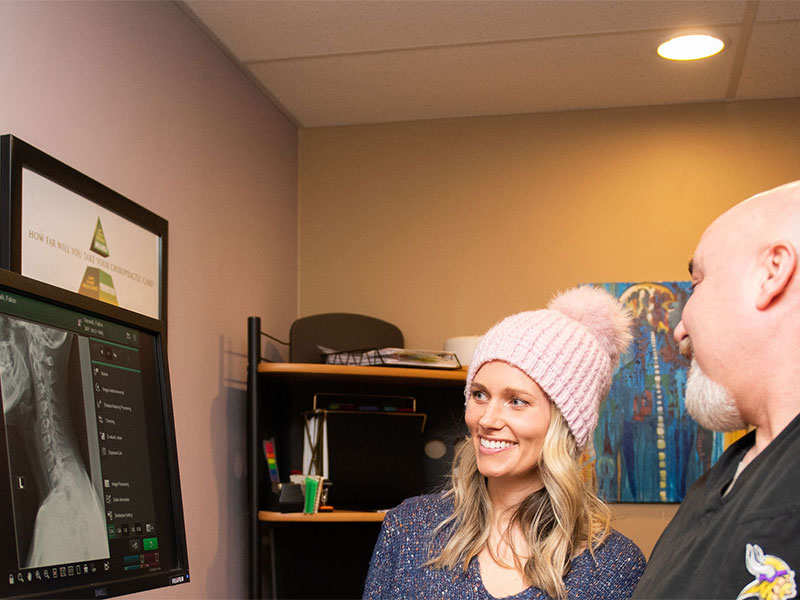 St. Paul Chiropractic & Natural Medicine Center is your trusted choice for chiropractors in the Twin Cities area since 2000!  Our team specializes in chiropractic care, clinical nutrition, weight-loss, massage therapy, exercise instruction/rehab and natural medicine. We are committed to providing pain relief for many symptoms and conditions so you can have a higher quality of life with optimal natural health.
What is Chiropractic?
Chiropractic is a specialty in medicine that studies and treats conditions associated with the musculoskeletal and nervous systems. This field treats patients of all ages, and its methods have been proven to counteract complications from a variety of health issues. St. Paul Chiropractic & Natural Medicine Center in Saint Paul, Minnesota, proudly upholds the traditions of this specialty. Learn more about this field below and request an appointment with our back pain chiropractor in Saint Paul, MN to see these treatments in action.
Are you looking for a Chiropractor in the Twin Cities area?  With the anxieties of everyday life growing increasingly more intense, regular chiropractic adjustments can restore and maintain balance within your body, leaving you better prepared to live life to its fullest.
The wellness team at St. Paul Chiropractic & Natural Medicine Center understands that life's daily irritants end up impacting the human body and over all wellness.   Injuries, accidents, falls, stress, tension, overexertion, and countless other factors often result in spinal column displacement, causing irritation to the spinal nerve roots, which in turn can trigger a number of other health concerns and require you to visit a chiropractor in St. Paul.
Under the assured guidance of the doctors at St. Paul Chiropractic & Natural Medicine Center, you'll come away not only feeling more steady and aligned but you will also leave with a deeper understanding of the many benefits natural medicine and wellness coupled with chiropractic treatments can provide.
Benefits of Using Chiropractic Adjustments
Improved Immune System: We are committed to educating you so you can live an overall healthier lifestyle. This includes teaching individuals how to eat properly in order to lose weight and stay at their target weight corresponding to age, body type, and height.
Enhanced Respiratory Circulation: Chiropractic treatments help to improve the flow of blood to the nerves of the heart and coronary arteries which lead to welcomed relief from a myriad of common respiratory conditions, including asthma and allergies.
Relief from Pain: Suffering with a misaligned spine or some other burning back injury can cause excruciating pain and discomfort. A few visits to the chiropractor can help realign your back and reduce the pain you're in. Reduction of the pain will allow you to get back to your regular everyday activities like playing racquetball, jogging, or even simply going to work.
Improved Flexibility: If you're like most people, you probably spend a lot of time engaged in repetitive motions while at work, or you sit all day long at an uncomfortable desk pattering away at your computer. Chances are, these unassuming routines will make your neck, shoulders, and back feel stiff and tight. Our clinic is just the place you can come for some pain relief.
Superior Chiropractic Care You Can Trust
Our mission is to help educate people on natural health.  Many injuries and conditions can be positively affected with natural health promotion strategies.  We specialize in working with our patients to develop strategies to restore health based on their individual needs. Here is a small list of the conditions and challenges shown to respond well to natural medicine solutions/strategies. This is not an exhaustive list of what we are capable of handling.
Conditions helped:
Personalized examination & analysis
Chiropractic Adjustments
Massage Therapy
Weight-loss
Natural Medicine
Physiotherapy
Nutritional Supplements
Exercise Instruction/Rehab
Metabolic and Nutritional Testing
Foundational Wellness
Applied Kinesiology
Diagnostic x-ray imaging
Fitness Counseling
Health and Fitness Seminars
Spinal and Postural Evaluations
Electrical Stimulation

Sciatica
Poor Posture
Neck Pain
IT Band Syndrome
Hip Pain
Weight Loss
Infertility
Joint Pain
Sports Injuries
Carpal Tunnel Syndrome
Pregnancy-related Pain
Gastroesophageal Reflux
Scoliosis
Asthma
Multiple Sclerosis

Whiplash
Scoliosis
Shoulder Pain
Fatigue
Plantar Fasciitis
Inflammation
Poor Sleep Quality
Work Injuries
Sports Medicine
Crohn's Disease
Degenerative Joint Disease
Vertigo & Balance
Repetitive Stress Injuries
Autism
Cerebral Palsy
Origins of the Chiropractic Field
The chiropractic field is more than a century old. Established in 1895 by Daniel David Palmer, chiropractic was founded on the basis that the cures for disease and illness could be found without the aid of drugs. Palmer, a resident of Davenport, Iowa, studied the spinal structures of the human body. He learned that manipulating specific parts of the body with a practitioner's own hands was able to alleviate pain and lessen the effects of various maladies.
Chiropractic methods are based on skills that were performed by ancient civilizations. The name "chiropractic" is derived from the Greek language, meaning "by hand." Based on his research, Daniel Palmer started the Palmer School of Chiropractic. His son, B.J., refined the methods of the practice to develop it into the professional modern society knows today.
Chiropractic Education and Training Requirements
Practitioners of this field are known as Doctors of Chiropractic (D.C.). Students undergo extensive education, training, and practice in order to earn this title. The prerequisites include a four-year bachelor's degree from an accredited university, as well as a minimum of five years of professional study at a chiropractic college. Like medical doctors, chiropractors study many different topics in the healing sciences. A well-rounded practitioner studies such fields as anatomy, physiology, rehabilitation, nutrition, and public health. Without a doubt, chiropractic requires great commitment and dedication. When paired with your family medical doctor, a chiropractor provides comprehensive care that keeps you on your feet.
A Compassionate Approach to Wellness and Health Care
Chiropractic employs noninvasive and non-surgical methods to treat disorders. No drugs or surgery is required when receiving chiropractic care. At St. Paul Chiropractic & Natural Medicine Center, leading natural medicine clinic in Saint Paul, Minnesota, we treat you like a member of the family. The staff ensures your visit is both fulfilling and educational. Our team listens intently to your health concerns. As a result, you receive thorough diagnostics and treatments that keep you on the path to good health and wellness.
St. Paul Chiropractic & Natural Medicine Center is currently accepting new patients.  We proudly serve patients throughout Saint Paul, Minnesota, as well as the surrounding communities. Email us using the contact form below or call us today at (651) 644-7207 to request an appointment with an experienced chiropractor in Saint Paul, MN.