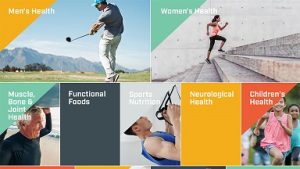 One cannot get everything the body needs from a "healthy diet" alone. There are essential nutrients your body cannot produce on its own, and they must come from clean dietary sources. For these reasons, the team at St. Paul Chiropractic recommends the "Foundational Five." These daily dietary supplements fortify your system and help guard your body from illness. These supplements will change your life!
Omega 3
Whether corn-based and processed or meat that was corn-fed, the presence of corn shifts the fatty acid profile within our bodies to more omega 6 based, which is pro-inflammatory. The grass fed and grass finished meat have more of an omega 3 fatty acid base, which is anti-inflammatory. High omega 3 to omega 6 fatty acid profile ratios are also found in pasture raised chickens and wild caught seafood.
Fatty Acids
There are many roles that these fatty acids are a part of, but most importantly DHA is known for brain health while EPA is used for anti-inflammation with our body. The big problem about EPA and DHA is that large amounts of both compounds are only really found in fish, which the average American doesn't regularly consume. So, consuming a fish oil will help balance out the omega 6 to omega 3 fatty acid profile ratio.
Phytonutrients
Consuming a wide range of plants, in particular dark, leafy green vegetables, is the foundation to many healthy and highly researched diets. Healthy vegetables and fruits contain many compounds that work together to stimulate healthy responses within the body. If you put good in, you're going to get good out (and same thing with the opposite).
Vitamin D3
Vitamin D3 is vital in many body processes, including bone mineralization, hormone production/regulation, tumor suppression, blood sugar regulation, and many others. Many people in the US think they are deficient because they aren't outside an adequate amount of time and use sunblock. While getting "enough" sunlight to be beneficial is nearly impossible anytime of the year, supplementation is particularly important during the winter months, as it aids in coping with Seasonal Affective Disorder (SAD).
Probiotics
Probiotics are important because humans have many environmental factors that disrupt the natural, healthy flora of the human intestinal tract and cause imbalance. Those environmental factors include pesticides, antibiotics, medications, and other endocrine disruptors found in our food and water. Many people in the US suffer daily with symptoms including constipation, diarrhea, gas, bloating, acid reflux, anxiety, depression, and many others.
Contact St. Paul Chiropractic & Natural Medicine Center today to learn how to implement foundational wellness in your life. We proudly serve patients in Saint Paul, Minnesota.