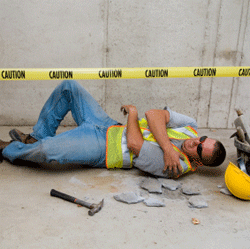 If you have been injured on the job, St. Paul Chiropractic & Natural Medicine Center can help you recover from your injuries and return to work as quickly as possible. Our staff are highly trained and capable of treating a wide array of injuries, including the many common types of injuries that occur in the workplace. Given how common it is for people to suffer injuries in their places of work, chiropractic care is ideally suited to helping people rehab their way back to full health. If you have been injured in a fall, suffered a low-back injury from lifting heavy objects, developed arthritis or carpal tunnel syndrome, or any of dozens of other conditions, we can help you. Our approach is non-invasive and it will get you feeling better as quickly as possible.
Comprehensive Treatment for Workplace Injuries
Injuries that occur on the job can be even more complicated than injuries that occur at home or elsewhere. If your injury involves a worker's compensation claim and your healthcare provider is ill-equipped to help you with that claim, your recovery can be delayed. The team at St. Paul Chiropractic & Natural Medicine Center can both help you navigate a complex workman's compensation claim and can treat your injuries.
Our support staff understands the complicated systems involved with such claims, and we are sensitive to the fact that you should not have to add bureaucratic frustration to your injury rehab and recovery. So, we pride ourselves on being a comprehensive chiropractic care provider. No matter how serious your work-related injury or injuries may be, you should not have to worry further about processing the paperwork.
We treat our clients with great care and compassion, creating comprehensive and individualized treatment plans that are specific to our knowledge of your unique injuries. If you have a simple injury that will respond to a familiar chiropractic treatment, great; that is how we will treat you. But we will not determine a treatment plan without a full understanding of what might underlie the injury. If a fall at work resulted in a low-back injury, a spinal adjustment may be the best primary treatment. If that fall also involved twisting or impact that damaged soft tissues, we may also recommend a combination of spinal adjustment and massage.
Effective Treatment for Work Injuries
Injury rehabilitation is one of our specialties, and if your injury is further complicated by occurring at your workplace, you can count on us to provide accurate and clear information for you to use in a workman's compensation claim. We recommend that you complete your Worker's Compensation forms before your appointment with us so that you can receive treatment at a reasonable price. We will work with your insurance carrier to ensure that your rights are protected. Call St. Paul Chiropractic & Natural Medicine Center at 651.644.7207 or send an email to info@stpaulnaturalhealth.com and we will be happy to schedule an appointment for you.