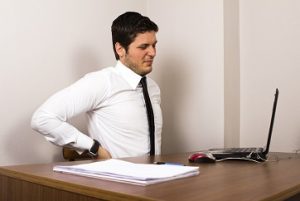 Have you recently been injured on the job? This can be an extremely stressful process as you try to recover and navigate the worker's compensation process if that applies. Additionally, the goal for most individuals is to recover as quickly as possible so that their job is minimally impacted. Trying to recover on your own isn't the best option for you. Instead, consider teaming up with our team at St. Paul Chiropractic & Natural Medicine Center and take advantage of our work injury pain relief options.
Dealing with insurance companies, your employer and worker'scompensation can add so much stress to the already difficult situation around your work injury.Tackling this entire process on your own can quickly become overwhelming. Not only can we help you experience natural pain relief, but we are also here to be your support system throughout the process. Let us be your advocate when it comes to ensuring that you receive the best care possible. We are happy to work with your insurance provider and will even help you with all of the documentation that you may need pertaining to your worker's compensation claim.
Natural Work Injury Relief
Work injuries come in all shapes and sizes. They often happen when you least expect them, so it's important to always have a plan in case a work injury occurs in the future. Our holistic team provides natural pain relief after a work injury. Through our effective chiropractic and massage therapy services, you'll be able to achieve the pain relief that you've been seeking without having to rely on pain medication or an invasive procedure. To top things off, these natural treatment methods that we practice have been proven to speed up the recovery process as well. The goal for our medical professionals is to help you achieve a full recovery from your work injury as quickly as possible so that you can get back to your job in the near future.
Work Injury Pain Relief in St Paul
Whether you are dealing with back pain that occurred from lifting something too heavy or you slipped and fell while working, it's important to seek care after any work injury. There's no better team around the St. Paul, MN area than St. Paul Chiropractic & Natural Medicine Center to handle your work injury pain relief needs. To learn more about how we can support you through a work injury, give us a call today at (651) 644-7207 or email info@stpaulnaturalhealth.com.