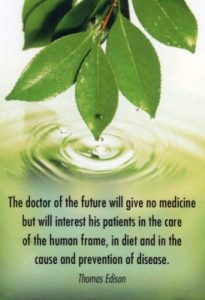 Functional medicine uses a system's approach in order to treat the underlying causes of health issues. Functional medicine can be especially helpful in treating chronic health issues. This is true because functional medicine treats more than just the symptoms of chronic health issue. Furthermore, functional medicine focuses on you, not simply your symptoms. St. Paul Chiropractic & Natural Health Center provides a wide range of functional medicine approaches because we prioritize the total you, not just the part of you that is affected by your current health issues.
Functional medicine focuses on interactions between the environment and the gastrointestinal, endocrine, and immune systems. At St. Paul Chiropractic & Natural Health Center, our health care practitioners work with you to create an individual treatment plan that reflects the philosophy of treating the whole person, rather than just the disease. By partnering with you on the treatment plan, we can identify what is best for you and address the health concerns that are affecting your quality of life. This partnership creates stronger feelings of investment in achieving greater health, and that often leads to a more positive attitude in addressing health challenges. We all know that a positive attitude is an essential component to winning battles against health issues.
Treat The Whole Person, Rather Than Just The Disease
Functional medicine can be very a helpful approach to treating chronic conditions that arise from arthritis, diabetes, heart disease, and others. Our commitment to the people we treat meets a need that is not always met by traditional medicine. Functional medicine does a better job of including you in your own treatment plan which also contributes to the positivity that is necessary in tackling the health issues affecting your life. St. Paul Chiropractic & Natural Health Center takes the central tenet of functional medicine—prioritizing you—very seriously. We know that when you feel engaged in your treatment plan, your chances of overcoming the health challenges affecting you increase.
Achieve Optimal Wellness with Functional Medicine, St. Paul
St. Paul Chiropractic & Natural Health Center is committed to your achieving optimal wellness. We believe that you are the single best source of information about your health challenges. We will pay attention to you, gather as much information about the underlying causes of your health issues as possible, and keep you apprised of our thoughts on best courses of treatment. Functional medicine is known as a system's approach to addressing health issues. We are known as a provider of health care that recognizes that the most important system of all is you.
If you would like to schedule a visit, call St. Paul Chiropractic & Natural Health Center at 651.644.7207.