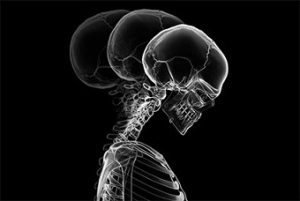 Whiplash is most commonly associated with car accidents, and more specifically with being struck from behind. Being rear ended causes the head to snap backward at a frightening rate of speed, while the body is supported by the seat of the vehicle the occupant is sitting in. The sudden snapping movement of the head can cause immediate, extremely painful, and long-lasting damage to the vertebrae of the upper back and neck, as well as to the muscles and other soft tissue that provide support for the spinal column. St. Paul Chiropractic & Natural Medicine Center has the experience and expertise to help you recover from your whiplash injury and reduce and eliminate pain by providing a variety of chiropractic treatments.
Persistent Neck Pain
It is important to note that whiplash occurs as a result of automobile accidents. Any activity that creates a sudden, jolting movement of the head and neck–a collision while playing football, for example, or even falling off a ladder from a height of just a few feet–can cause whiplash. It is when we experience whiplash that we become aware of just how much we take for granted the movement of our heads at virtually every moment of the day. We may convince ourselves that we scan our environment predominantly with our eyes, and that our heads move far less than our eyes do. But suffering with whiplash is a quick lesson in how much we rely on small, subtle movements of our head to take in information from the world around us.
Effective Non-Invasive Treatment For Whiplash
It is not just movement of the neck and head that cause sometimes searing pain from whiplash. A whiplash injury means that some degree of damage has been done to some combination of the vertebrae in the head and neck, the muscles that support the spine, and the connective tissue (ligaments and tendons) that are integral to the head and neck movement most of us take for granted. Remaining perfectly still can prove to be excruciatingly painful because an injury to any one of those components means that it could be difficult, if not impossible, to isolate the component so that the head and neck remain in a neutral, pain free position.
Chiropractic adjustment and massage therapy are excellent treatments for whiplash injuries. Restoring proper spinal alignment and helping the muscle and soft tissue to heal with massage reduces pain quickly and effectively. If you are suffering from whiplash, call our team at 651.644.7207 to schedule an appointment.