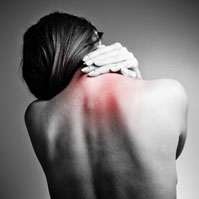 Whiplash is one of those injuries that you can't ignore. If you try, you'll just end up causing yourself more pain. For many people suffering from whiplash, it's not a matter of whether they get help, it's a matter of when and where. At the St. Paul Chiropractic and Natural Medicine Center, we want to make sure that if you're suffering from whiplash, you get the best possible treatment available. That means a natural whiplash relief treatment that leaves your entire body feeling better, whether your whiplash injury has affected one area of your body or several. Through whiplash chiropractic adjustments and massage therapy, our St. Paul, Minnesota whiplash relief experts will have you back to your daily routines in no time.
Common Mild and Severe Symptoms of Whiplash
Whiplash symptoms are generally recognizable, especially if you've had an accident that could easily cause whiplash. The most important thing you can do when seeking treatment is keeping track of the location, severity, and frequency of your whiplash symptoms. Understanding your pain will help us find the areas of your body that have been affected by whiplash and treat them accordingly. Common symptoms are often found in the neck, back, shoulders, and limbs, including:
• Stiffness
• Sharp pain
• Throbbing pain
• Chronic pain
• Muscle spasms
• Inflammation
• Pinched nerves, typically causing shooting pain
Other symptoms of whiplash can include:
• Headaches and migraines
• Changes in arthritis pain
• TMJ (Temporomandibular Joint Dysfunction)
• Disc degeneration in the spine
Chiropractic Spinal Adjustments for Whiplash Relief
As chiropractors, we often utilize spinal adjustments to complete the majority of patients' whiplash treatment. Because of the nature of whiplash, chiropractic adjustments are a perfect technique to realign the body from the neck down. Whiplash can literally throw your body out of alignment, shifting vertebrae in your back and neck and causing issues throughout your entire body, including slipped discs, pinched nerves, muscle tension, head pain, numbness, and more. All of this can often be eliminated with slight adjustments.
Massage Therapy Whiplash Treatment
In addition to spinal adjustments, we also offer patients whiplash massage therapy, which helps to heal the areas of your body affected by whiplash by relieving muscular and nervous tension, improving circulation, reducing inflammation, and more. In addition to actually treating whiplash symptoms, massage can help to increase the effectiveness of chiropractic adjustments in some patients, helping you heal faster!
Natural Whiplash Relief Without Medication
When you've sustained a whiplash injury, chances are good you're hurting in at least one area of your body, and putting off treatment can mean letting that pain grow, spread to other areas of your body, or last much longer than it should. At the St. Paul Chiropractic and Natural Medicine Center, we believe in the power of holistic, natural healing, which means you don't have to worry about taking medication or undergoing any invasive procedures to heal. Contact our St. Paul, MN whiplash doctors today at 651-644-7207 or info@stpaulnaturalhealth.com, and find out how we can help you find whiplash relief, naturally.