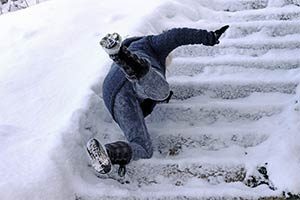 No population in the world should be better at clearing ice and snow from frozen walkways than those who live in Minnesota, and truth be told, no other population is. Despite that statement of fact, sidewalks, parking lots, front steps, and other surfaces can still cause you to slip and fall. St. Paul Chiropractic & Natural Medicine Center offers Minnesota's ice and snow-clearing public the best possible slip and fall injury treatment.
One can, of course, slip and fall for reasons other than snow and ice. But in Minnesota, snow and ice are constants, especially during the winter, and they account for a huge percentage of slip and fall injuries. The specific kinds of injuries due to slipping and falling are too numerous to list, but they are relatively easy to categorize.
Sprains and Strains
Our natural instinct when we feel ourselves slipping is to try to prevent the fall. When we are successful at preventing the fall, it may be due to the intensity of our effort to keep from falling. That can result in a twisting or wrenching motion that can sprain or severely strain our joints, muscles, ligaments, tendons, and other soft tissue.
Contusions and Breaks
If you are not fortunate enough to stop your fall, the landing can result in impact injuries, which include contusions (bad bruises) and/or fractures. Fractured ankles, bruised elbows, and injuries to the wrist and hands are common in falls.
Spinal Alignment Issues and Whiplash
Even a slight slip without a fall can result in back pain caused by the sudden and unexpected movement associated with slipping. If you actually fall, the impact of landing on the ground can create further misalignment. Some falls also cause the violent movement of the head and neck, resulting in whiplash.
Chiropractic Treatment for Slip and Fall Injuries
The injuries that fall into the categories listed above all respond well to the kind of care provided by St. Paul Chiropractic & Natural Medicine Center. More specifically, it is likely that our staff will recommend a unique combination of chiropractic adjustments and massage therapy to treat your injury. If you have a more serious injury, such as a fracture, massage therapy can help to relax the muscles and soft tissue close to the injury, reducing stress and encouraging blood flow.
Working with our staff means working with people who not only have the experience and knowledge to apply treatments that work well with slip and fall injuries but who also have their own slip and fall experiences. Call us at 651.644.7207 to schedule an appointment.