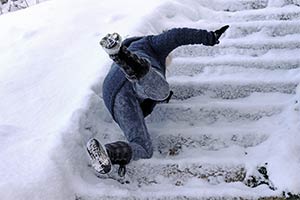 Accidents happen, and when they do, they can lead to painful slip and fall injuries that disrupt your life. If you're in Minnesota and find yourself dealing with the aftermath of a slip and fall incident, St. Paul Chiropractic and Natural Medicine Center is here to help. In this blog post, we'll explore the common causes of slip and fall injuries in Minnesota and how our dedicated team can assist you on your path to recovery.
Understanding Slip And Fall Injuries In Minnesota
Minnesota's beautiful landscapes are renowned for their charm, but they can also pose challenges during certain seasons. Slip and fall injuries are particularly prevalent during the winter months when icy sidewalks and snow-covered pathways become treacherous. However, these incidents can occur at any time due to various factors:
● Weather Conditions: Snow, ice, rain, and sleet can create slippery surfaces, increasing the risk of accidents.
● Uneven Surfaces: Cracked sidewalks, potholes, and poorly maintained walkways contribute to trip and fall hazards.
● Poor Lighting: Insufficient lighting in parking lots, stairwells, and hallways can lead to accidents, especially during the evening.
● Negligence: Property owners have a responsibility to maintain safe premises. Neglecting this duty can result in injuries for visitors and customers.
Recovering With St. Paul Chiropractic And Natural Medicine Center
Immediate Assessment: If you've suffered a slip and fall injury, it's crucial to seek prompt medical attention. Our experienced team can conduct a thorough assessment to determine the extent of your injuries.
● Chiropractic Care: Many slip and fall injuries involve musculoskeletal issues. Our chiropractors specialize in treating these injuries, providing relief from back pain, neck pain, and joint discomfort.
● Physical Therapy: Our licensed physical therapists will create a personalized rehabilitation plan to help you regain strength, balance, and mobility. We'll work with you to improve your overall function and minimize long-term complications.
● Pain Management: We offer various pain management techniques, including massage therapy and acupuncture, to alleviate your discomfort and promote healing.
● Legal Assistance: If your slip and fall injury occurred due to negligence, our team can refer you to experienced legal professionals who can help you pursue a personal injury claim.
Dealing with a slip and fall injury in Minnesota can be challenging, but you don't have to go through it alone. St. Paul Chiropractic and Natural Medicine Center is your trusted partner in recovery. Whether your injury is the result of icy conditions, uneven surfaces, or negligence, our dedicated team is here to provide comprehensive care tailored to your specific needs. Contact us today to schedule your consultation and take the first step toward healing and reclaiming your quality of life. Your journey to recovery begins with us.