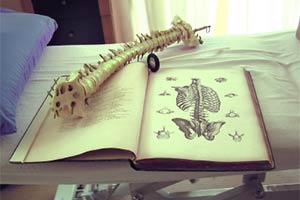 The human body is a well-oiled machine. But, like any machine, it will occasionally develop problems that require maintenance. Chiropractic care exists because of this fact. Chiropractic care is a highly effective, non-invasive treatment of pain relief and healing, and its focus on addressing the origins of issues, is an excellent treatment option that does not rely on pain medication or surgical intervention. If we look at one of the most common maintenance issues that occur in chiropractic care—sciatic pain—we can see that there is a simplicity to the underlying cause of pain, as well as to the treatment of it.
Signs of Sciatic Pain
Sciatic pain is the result of inflammation of the sciatic nerve or inflammation of other parts of the anatomy that result in added pressure on the sciatic nerve. The word most often associated with sciatic nerve pain (also known as 'sciatica') is numbness. Numbness can certainly be a component in sciatica, but numbness tends to indicate an absence of pain or a lack of feeling altogether. The simplicity of the problem—inflammation of or around the sciatic nerve can result in pain—can become more complicated by the combination of numbness and searing, inescapable pain.
The sciatic nerve runs from the upper hip, down through the back of the leg, all the way down to the foot. The simple problem of pressure on the sciatic nerve resulting in severe pain requires a response from a professional who understands how to assess the origin of the pain and how to develop a treatment plan to begin the healing process. St. Paul Chiropractic & Natural Medicine Center is staffed by professionals who understand that solving a simple problem is not always easy. Our experience and training, however, provide the insight that is necessary to accurately identify the source of your sciatic nerve pain and how best to go about relieving you of the pain you are experiencing.
Comprehensive Chiropractic Treatment for Sciatic Pain
With the knowledge that the sciatic nerve is located in the back of the leg and extends from hip to foot, it is common for that paradoxical combination of numbness and pain to be experienced in the gluteal muscles and hamstring. When pain is felt in those areas, most people understand that it is sciatica. But the pain can also be felt in the heel or underside of the foot, which leads to a self-diagnosis of plantar fasciitis. This is one reason why seeking treatment is so important – so that you can focus on the correct issue and resolve the problem once and for all. Our staff can use a combination of treatment options including chiropractic adjustments, massage therapy, exercise, nutrition and acupuncture to treat the root of your issue. Call 651.644.7207 to schedule an appointment.