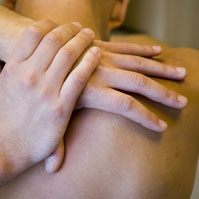 At the St. Paul Chiropractic and Natural Medicine Center, we believe in providing our patients with holistic healthcare. We use a whole body approach to treat a variety of issues with chiropractic care. At St. Paul Chiropractic & Natural Medicine, it is our mission to have a massive positive impact on our community and improve our world. We are a licensed Chiropractor in Saint Paul Minnesota and we fully understand the importance of alternative medicine to help better your life.
What is Sciatica?
Doctors of Chiropractic medicine regularly treat sciatica. Sciatica is described by pain that originates in the low back that travels into one or both legs. Sciatic nerve pain varies in intensity and frequency. Sciatica is generally caused by sciatic nerve compression. Disorders known to cause sciatic nerve pain include lumbar spine subluxations, herniated or bulging discs, pregnancy and childbirth, tumors, and non-spinal disorders such as diabetes, constipation, or sitting on one's back pocket wallet.
Proper Diagnosis of Sciatica Is Essential
At St. Paul Chiropractic and Natural Medicine Center, we are ready to deal with all types of backaches and pains, including sciatica. Lower back pain is a common occurrence, and may stem from a variety of sources. Since there are many disorders that cause sciatica, St. Paul Chiropractic and Natural Medicine Center first stem is to determine what is causing the patient's sciatica. We are careful to listen to our clients and take our time to complete a thoughtful review of each individual's medical history.
Chiropractic Treatment of Sciatic Symptoms
The purpose of chiropractic treatment is to help the body's potential to heal itself. It is based on the scientific principle that restricted spinal movement leads to pain and reduced function and performance. Chiropractic care is non-surgical and drug-free.
The type of chiropractic therapy provided depends on the cause of the patient's sciatica. A sciatica treatment plan may include several different treatments, Our team employs a comprehensive approach to care that ensures that you gain relief from leg pain, while also adopting methods that prevent it from returning.
Take a proactive approach to your health and wellness. With a wide array of diagnostic screenings, consultations, and preventative measures available, we are committed to  improving  your life. Family chiropractic services are also available for therapeutic exercise, massage therapy, electrical muscle stimulation, and diagnostic screening.
To help you live pain free and improve your quality of life contact St. Paul Chiropractic & Natural Medicine Center, call us today at (651) 644-7207 or email info@stpaulnaturalhealth.com to set up an appointment.