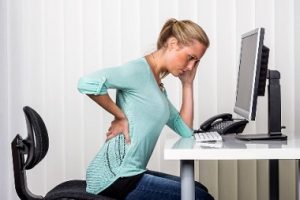 When we were all hunters and gatherers, little attention had to be paid to posture. Instead, as humans spent their days tracking down a deer or collecting berries, the activities of the time were not especially detrimental to their posture.
This is not the case for us today. Many of us spend a majority of our waking hours seated at a desk and in front of a computer screen working at the office or from our own homes. Our sleeping hours are not spent in the best position either.
Thanks to the way our body is postured for much of the day, the concept of ergonomics has become big business in the workplace. Essentially, ergonomics is the application of physiological concepts to the design of products and the ways in which we use them.
Pay Attention to Posture
The experts tell us that our shoulders should be relaxed, our back and arms well supported, our thighs horizontal, and our feet flat on the floor. However, many of us wind up hunched over and staring too closely at a screen for far too long without breaks.
Ensuring that computer monitors are at the appropriate height—which means the top of the monitor is the same height as your line of sight when looking straight ahead—while keeping wrists straight and fingers relaxed can be a full time job in itself.
Work Without Pain
Rather than relying on our chairs and our desks to keep us aligned, a licensed and experienced chiropractic physician can provide a natural means for maintaining good health through keeping our spines straight, as well providing other natural solutions for relief.
No longer having to rely on popping pain meds to make it through the day is possible when under the care of the right practitioner. Through sophisticated screening and treatment methods, your workday can be pain free. From neck and back to hip and other joints, relief is possible.
Even with the best ergonomic designs and our attention fixed on how we are holding our posture, pain is still a reality for many on a daily basis.
Rather than putting up with chronic pain, allow a chiropractic physician to help you understand how a host of natural remedies like customized clinical nutrition and other protocols lead to a healthier, pain-free life.
Call St. Paul Chiropractic & Natural Medicine Center at 651-644-7207 or schedule an appointment online and experience relief today!