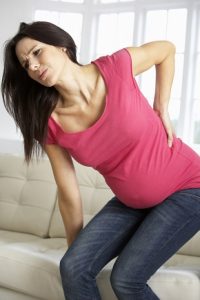 Any woman who has been through a pregnancy can tell you that aches and pains are a given throughout the term. It has been reported that approximately 50% of women suffer from chronic back pain throughout the pregnancy, while another nearly 75% report intense back pain during labor. With this in mind and knowing that there are many changes that occur within the body during pregnancy, it's no wonder that so many women seek out some kind of relief from back pains and general aches. Obtaining chiropractic care during this precious time is beneficial. The team at St. Paul Chiropractic are experienced in providing intense pain relief techniques with a gentle touch.
How Safe Is Chiropractic Care During Pregnancy?
Although, typically, it is quite safe to perform adjustment to a pregnant patient, caution should be exercised. Circumstances may arise indicating that chiropractic care is not appropriate and warrant a referral. For most, chiropractic care is not only safe, but encouraged. An article printed in the Women's Journal reported that an estimated 94% of women that sought chiropractic care during their pregnancy reported benefitting from the care. Chiropractic care is so safe that it can continue up till the day of delivery, and the mother may choose to be adjusted during labor, according to the discretion of her doctor and chiropractor.
Why Should See A Chiropractor During A Pregnancy?
As the abdomen grows, the lower back gets pulled forward, while the shoulders pull back to compensate. This causes vertebral subluxations, or out-of-place vertebrae. To help deal with the pains associated with these movements, a Chiropractor will perform spinal adjustments. Regular spinal adjustments also help decrease morning sickness and keep mother and baby healthier. A healthy spine allows the immune system to function at its best, which means the baby's immune system will be stronger as well. Chiropractic care also often shortens the labor time and can decrease the amount of labor pain, since a pelvis which is properly aligned makes enough room for the baby to grow and be delivered more easily.
There's absolutely no reason for you to go through your pregnancy struggling with pain and feeling uncomfortable. At St. Paul Chiropractic and Natural Medicine Center, we are here to provide expectant mothers with pregnancy support through our effective chiropractic care services. If you are looking for natural pain relief options or are trying to ensure that you have a smooth labor and delivery, chiropractic care may be just what you need! Give us a call today at (651) 644-7207 or email info@stpaulnaturalhealth.com to set up your first appointment with our dedicated and experienced chiropractic team.