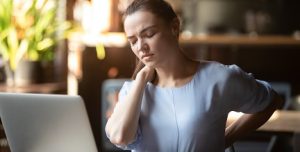 Chiropractic care is ideal for many different injuries and the team at St. Paul Chiropractic & Natural Medicine Center can help you every step of the way during your recovery. Recovering from an injury can be grueling and can take a lot of time. You may want results quickly and be tempted to take lots of over the counter medication to get you through the pain. When you come to our clinic, you will find that we identify the cause of the injury and develop an individualized treatment plan that will address the underlying injury and reduce your pain, without having to rely on pain medication and/or surgical intervention.
Injury Treatment And Prevention
The most common injuries that we treat include car accident injuries, sports injuries, injuries that happen in the workplace, slips and falls, back and neck pain, sciatica, headaches, migraines, and even leg and foot pain. Regardless of your injury and how long you have been battling pain, we can help. We generally recommend some combination of chiropractic adjustments, massage therapy, physical therapy, decompression therapy, and natural medicine and nutritional supplements. This approach will treat the source of the injury, promote recovery and prevent future injury. It might take some time, but in the end, you will come back from your injury feeling even stronger and better.
Pain medications reduce pain by masking it for a short period of time, but chiropractic treatment reduces pain by treating the injury at the source. When you take pain medications, you may have to deal with side effects, rebounding (having to take more to reduce the pain) and the potential for re-injury, since you may not be actually healing from your injury. When you work with our staff, you will be given a detailed program to follow with exercises that you can complete at home to complement your treatment in our clinic. We can adjust this treatment plan as you begin to regain strength and recover. We also provide nutritional supplements and dietary advice to promote your body's own healing properties.
Reduce Pain After Injury In St Paul
You may come into our clinic for treatment from an injury, but you will leave stronger, healthier and closer to your optimal health goals. Our staff is patient, professional, highly skilled and eager to help you recover from whatever injury brings you in. For more information or to schedule an appointment, give us a call at 651-644-7207.