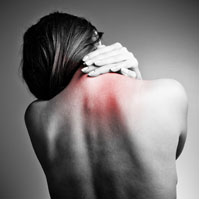 At St. Paul Chiropractic & Natural Medicine Center, we want to give you that neck pain relief you've been searching for. Rather than grabbing the closest pain medication that you can find to achieve relief from your strained neck, why not consider a natural approach to pain relief? Our team is proud to offer natural neck pain relief to you. This is a decision that your neck will be thankful you made in no time!
Common Neck Injuries: Were you recently involved in an auto accident? Did you injure your neck during an athletic event? Have the repetitive movements that you've found yourself doing regularly caused your neck to stiffen up? Whiplash is another common neck injury that many of our patients at St. Paul Chiropractic & Natural Medicine Center come to us in hopes of achieving neck pain relief from. No matter what the reason for your neck injury may be, our team of medical professionals can help you achieve relief naturally.
Personalized Natural Treatment Plan for Neck Pain Relief
There are many medical professionals that try to treat varying neck injuries the same way. At St. Paul Chiropractic & Natural Medicine Center, we believe that each of our patients deserves a personalized natural treatment plan for their neck pain. Once you give our team a call, we'll take the necessary time upfront so that we can determine specifically what is causing your neck pain. From there, we'll incorporate holistic medical treatment options that will help you achieve neck pain relief naturally. Rest assured that we won't use pain medication or an invasive procedure to get you the neck pain relief that you've been seeking. Instead, our chiropractic adjustments and massage therapy treatments will allow you to recover naturally from your neck injury.
Free Neck Pain Consultation
Don't let financial fear be the reason that you continue struggling with your neck pain. At St. Paul Chiropractic & Natural Medicine Center, we want all of our clients to achieve natural pain relief from whatever injury they are dealing with. To help alleviate the financial stress on our clients, we are proud to offer a free consultation to our potential clients. We'll lay out a treatment plan and break down the expected costs of your care so that you can make a decision as to whether or not you would like to move forward with our holistic care.
So, if you are dealing with neck pain that will not go away, don't assume that you have to continue living your life in continuous pain. Instead, consult a team of medical professionals committed to helping you achieve neck pain relief naturally. To receive neck pain relief in St. Paul, give St. Paul Chiropractic & Natural Medicine Center a call today at (651) 644-7207 or email info@stpaulnaturalealth.com.