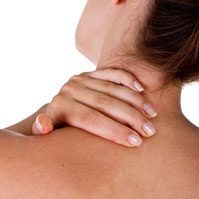 The spine is a very complicated part of the human body.  This statement is simple and true. When you have an issue with your spine, you can feel it in every part of your body and it affects virtually everything you do.  Chiropractic medicine has made its name on the spinal adjustment, and with good reason.  It is an important and extremely effective treatment of spinal issues. St. Paul Chiropractic & Natural Medicine Center specializes in the spinal adjustment and can help you find immediate and long-term relief from neck and back pain.
Effectively Relieving Neck Pain with Chiropractic Adjustments
Many people may associate spinal adjustment with lower back issues, but most people who have experienced back pain know that different areas of back pain can be experienced very differently.  Neck pain can be extremely painful and debilitating.  Many of our clients tell us that their neck pain started after they "slept wrong" or "slept on it funny."  Certainly, sleeping in a suboptimal position can cause neck pain, but just as often as not, clients will tell us that their neck pain appeared out of nowhere or started when they found themselves slouching at their desk.  And still others will tell us that they have no idea what caused their neck pain.  One thing they all have in common, though, is that their neck pain is extremely painful.
The staff at St. Paul Chiropractic & Natural Medicine Center can help identify the source of your neck pain and develop a personalized treatment plan helping to reduce or eliminate it. Our staff is trained and experienced, compassionate and attentive. Our goal is to provide you with excellent and responsive care. So, when you schedule an appointment with us, you can expect when we address your neck pain—or any other chiropractic issue—we will give you the best treatment you can find in the St. Paul area.  We will work with you to identify not just the incident or the issue that is causing the pain but the underlying conditions that may cause an acute discomfort to become a chronic problem.
Comprehensive Treatment for Neck Pain in St. Paul
We have the full range of chiropractic treatments to consider when addressing your neck pain.  Spinal adjustment is the best known treatment, but far from the only one.  Depending on the nature of your neck pain, we may also recommend electrical stimulation and/or massage therapy.  If you help us determine that your neck pain is due, in part, to excess stress in your life, we can also work with you to assess the sources of stress and help you with relaxation techniques and better sleep hygiene.
If you live in St. Paul and have neck pain, we can help you.  Call St. Paul Chiropractic & Natural Medicine Center at 651.644.7207 and our team will schedule an appointment for you.