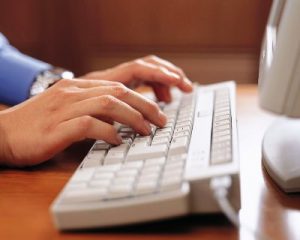 The majority of people can use their hands, wrists and fingers easily without giving it much thought. For individuals with carpal tunnel syndrome, the mere task of writing with a pen, typing on a keyboard or driving a car can cause pain, tingling or numbness in the hand, wrist and forearm. Carpal tunnel syndrome is commonly caused by repetitive use activities and may originate from a misalignment in the upper spine or neck. The St. Paul Chiropractic & Natural Medicine Center provides non-surgical treatments that may effectively relieve the painful and numbing symptoms of carpal tunnel syndrome by treating the underlying source of the condition. Safe, natural, non-invasive chiropractic care does not have the same risk factors of carpal tunnel surgery.
Carpal tunnel syndrome is named after the passageway, made up of tendons, ligaments and bones that make up of the anatomy between the wrist and the hand. Something called the median nerve runs through the carpal tunnel. The median nerve carries sensations for large area of the hand from the thumb over to the inner side of the ring finger. Swelling in the carpal tunnel could result in a trapped or pinched nerve.
Carpal Tunnel Symptoms
• Intermittent Arm Pain
• Radiating Wrist Pain
• Hand Pain – Worse in Morning
• Persistent and Progressive Symptoms
• Burning, Itching or Swelling
• Numbness in Hands or Fingers
• Weakness in Effected Hand or Arm
• Difficulty Grasping Objects
• Tingling Discomfort in Hand, Wrist, Arm or Fingers
• Reduced Movement or Mobility in Neck
• Feeling Need to Shake Hand to Relieve Pain, Numbness, Tingling or Burning Sensation
Carpal Tunnel Release Surgery
Surgical intervention is often tried as a cure for carpal tunnel syndrome. During carpal tunnel release surgery, an incision made in the palm of the hand is used to cut through the ligament to relieve pressure on the median nerve. The patient runs a risk of poor outcome, adverse response to anesthesia, prolonged recovery time of a dominant hand and symptoms returning within the next couple of years.
Wellness Care for Carpal Tunnel Relief
Total wellness care for carpal tunnel relief can be found at St. Paul Chiropractic & Natural Medicine Center. Noninvasive chiropractic techniques can provide significant relief of carpal tunnel syndrome symptoms without risking adverse affects of carpal tunnel release surgery. A licensed chiropractor with experience in natural treatments for carpal tunnel syndrome may elect to utilize chiropractic adjustments in the upper spine and neck to correct any alignment issues causing carpal tunnel symptoms.
Your individualized carpal tunnel remedy treatment plan at St. Paul Chiropractic & Natural Medicine Center could include natural treatments such as:
• Chiropractic Adjustments
• Massage Therapy
• Trigger Point Therapy
• Targeted Exercises
• Nutritional Counseling
• Preventive Methods to minimize risk of symptoms reoccurring
Licensed Natural Medicine Clinic in St Paul
St Paul Chiropractic & Natural Medicine Center provides safe, natural, non-surgical treatments for carpal tunnel syndrome that may correct the underlying cause of symptoms. As a licensed natural medicine clinic, our health care professionals strive to provide the best, non-surgical methods for carpal tunnel symptom relief and total body wellness.
In South St Paul, Minnesota, contact St Paul Chiropractic & Natural Medicine Center to schedule an appointment to relieve carpal tunnel symptoms naturally.
Call: (651) 644-7207 or Email: info@stpaulnaturalhealth.com