Massage Therapy for Better Health & Wellness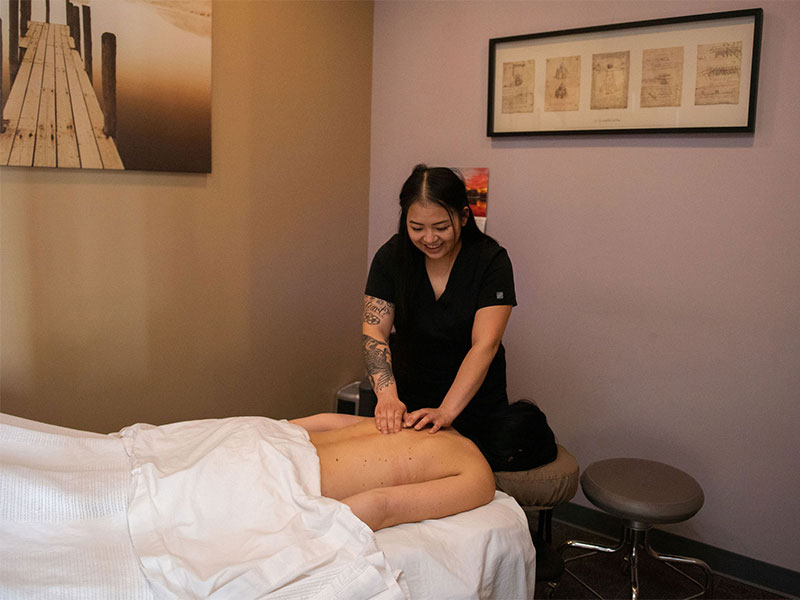 When you're waking up sore, having trouble staying on your feet at work, and carrying the stress of each day on your shoulders, it's time to see a massage specialist. In St. Paul, there are countless massage centers and spas to choose from, making it difficult for anyone to figure out where to get the best massage for the best price. At St. Paul Chiropractic and Natural Medicine Center, your health and comfort are our highest priorities, and it shows in our work. Our massage therapists know the value of a good night's sleep and loose muscles, and we want to help you and your body achieve both so that you can get back to living your life.
Skilled St. Paul Massage Therapists
With us, you can be sure that you're in good hands as you're tended to by the best massage therapists around. We want you to be as healthy and happy as possible, and with the help of our experienced, friendly, and skilled massage therapists, you can count on leaving our center feeling far better than when you walked in. At our natural medicine center, we believe in helping our patients from beginning to end, and that's why we work with you to create a plan that will help you reach your own health goals. Whether it's a long-term massage therapy plan or a quick fix, we're here to help, and we want you to leave our center feeling better than when you walked in every time.
At our center, our massage therapists will leave you relaxed and functioning normally again, helping you confront the weekly grind with energy. So sit back, relax, and let the massage therapists of St. Paul Chiropractic and Natural Medicine give you the massage of a lifetime. On your first visit to our center, you'll receive our massage special, $59 for an introductory massage, and you'll feel the difference before you leave our center.
Benefits of Massage Therapy
When you think of massage therapy, you might think of the 30-minute massages you get at your mall's spa or the painful neck massage your friend gave you last night, but our massage therapy is nothing like either of these less-than-satisfying experiences. Our massage therapy provides you with much more than just a few minutes to spend relaxing; it's an effective treatment for your everyday aches and pains. Our professional and skilled massage therapists will get to you and your body's pains, and you can be sure that the massage you receive with us will leave you relaxed and feeling better in all the right places. With a strong patient-first approach, our massage therapists will work with you to determine the best course of action to help you address both your physical and mental health concerns.
Physical Pain Relief and Management
Massage therapy is used to treat sports injuries and chronic or occasional muscle pain, and it can be exceptionally beneficial to patients suffering from specific diseases or conditions that affect muscle tissue. Whether you're suffering from a chronic illness or you're simply aching after a long day, massage therapy could be the perfect solution for your body. With soft and deep tissue massages, our massage therapists will manipulate your muscles and tissues into feeling and actually being healthier. Positively affecting your muscular, nervous, lymphatic, circulatory, and immune systems, massage therapy could be the solution you need to combat all of your body's discomfort, a natural pain relief technique that requires no medication.
Mental Health Improvement with Massage Therapy
In addition to the benefits of massage therapy in treating your body's medical ailments and providing physical pain relief, massage therapy is effective in helping you manage health issues and disorders that are even more difficult to treat. Stress, anxiety, and depression are common sources of pain to many of our patients, and we believe that mental health is just as important and can be just as manageable as physical pain. Massage therapy is an exceptional pain relief system for those who suffer from stress, anxiety, or depression, helping patients relax and forget about the pressures of the day. When your body feels better, you feel better, and we know that by managing your body's aches and pains, we can also manage your mental and emotional pains, letting you sink into the feeling of being physically healed and on your way to being a happier, healthier you.
To feel the direct and immediate benefits of massage therapy, call 651-644-7207 to schedule a massage at our St. Paul Chiropractic and Natural Medicine Center. Take our massage therapy services for a test ride, and experience a great massage at a great price with our $59 introductory massage special.