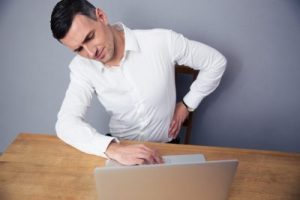 The back is a complex system of bones and joint, muscles, nerves, tissues, and tendons, and understanding how each element of the back interacts is a key part of helping relieve back pain. At the St. Paul Chiropractic and Natural Medicine Center, our chiropractic and massage therapy professionals specialize in understanding the human body and how it can be affected by our daily lives. If you're suffering from lower back pain, it could be the result of your daily activities, a long-standing injury, a recent accident, stress and tension, or something else entirely. But whatever the case may be, our lower back pain relief specialists in St. Paul, MN can help you overcome your back pain using natural remedies that are healthy and effective in treating the most severe and mild aches and pains.
Chiropractic Adjustments for Lower Back Pain
As a chiropractic center, perhaps you've found us in your search for a chiropractor. Although chiropractic is not the only form of lower back pain relief we can provide, it's often part of patients' treatment plans when they're suffering from lower back pain simply because it's so effective. Chiropractic adjustments involve returning the spine to its natural position by manipulating the vertebrae in the back and neck. This can help to align the entire body, from your head to your feet, and weather your symptoms are caused by an issue with your back, neck, or even your hips, we can help erase your pain at its source.
Lower Back Massage Therapy
Sometimes, chiropractic adjustments alone don't cut it to eliminate lower back pain. Sometimes, pain is an issue that needs to be solved by relieving muscular and nervous tension through massage therapy. Because we understand that the benefits of massage are numerous, as massage can affect the muscular, nervous, lymphatic, circulatory, and respiratory systems, we make it a point to offer massage to our patients who either can't find relief through chiropractic alone or who would benefit from additional tension relief.
Lower Back Rehabilitation Specialists
At the St. Paul Chiropractic and Natural Medicine Center, our St. Paul, Minnesota chiropractors, massage therapists, and physical therapists are committed to ensuring each patient we see gets the best treatment possible. When dealing with lower back pain, this can sometimes mean creating a lower back rehabilitation plan that involves several forms of chiropractic and natural medicine treatments. This can mean appointments for chiropractic adjustments, massage therapy sessions, physical therapy, and exercises intended to help relieve and prevent lower back pain. Your individual treatment plan will be determined based on your individual pain and the causes of your pain, whether it be caused by an injury, stress, or otherwise. If you're suffering from chronic or even mild lower back pain, don't just accept it; fight it. Contact us today at 651-644-7207 or info@stpaulnaturalhealth.com, and we can help you plan your journey to a healthy, pain-free back.