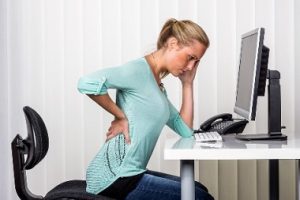 Have you battled back pain for months or years without being able to find relief? Maybe you suffered a back injury that flares up periodically and requires you to halt your normal activity for a few days before you can get back on your feet. If you have tried different treatment options for back pain, you may feel frustrated and discouraged that you cannot seem to get better. Decompression therapy is a safe, effective, non-invasive and relatively new therapy that might be a great option for you. St. Paul Chiropractic & Natural Medicine Center has recently added a decompression table in our clinic and our staff is trained to be able to complete this treatment for our clients.
What Is Decompression Therapy?
Decompression therapy can treat your back pain without the need for surgery. It helps reduce pain from pressure on your nerves by stretching out the injured area. In addition to reducing back pain, it can also be used for knee pain, hip pain or pain in your joints. Our staff can determine if you are a good candidate for decompression therapy and explain exactly how the painless procedure works. At our clinic, we use our decompression table to decompress the spine, taking the pressure off of your discs, which helps to reduce inflammation and improve blood flow, allowing your body to heal. Our staff often recommends decompression in combination with physical therapy, chiropractic adjustments and massage therapy for a comprehensive treatment plan.
Benefits Of Decompression Therapy In St Paul
In addition to reducing pain and allowing you to resume your normal daily activities, decompression therapy is an excellent choice to combat chronic back pain and prevent future issues from occurring. It can help to restore joint and spinal alignment which will prevent pain from coming back down the road. Decompression therapy is excellent for reducing pain, numbness, tingling, and other symptoms that are caused by bulging or herniated discs. Generally, our clients can see improvement in 2-3 decompression therapy sessions. Before you consider surgical intervention, which can have a long recovery time and potential complications, consider decompression therapy for your back pain. The staff at St. Paul Chiropractic & Natural Medicine Center can determine if you are a good candidate for decompression therapy if you make an appointment at our clinic at 464 Hamline Ave South. Give us a call today at 651-644-7207 for more information about the benefits of decompression therapy.