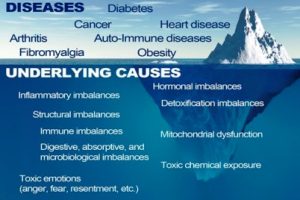 Have you recently been told by a family member, friend or coworker just how much they love chiropractic care? Well, the truth is that they're not the only one singing the praises of chiropractic care. In fact, this type of medical care is one of the fastest growing fields of medicine in the United States.
A recent study has shown that more than 10 million people receive chiropractic care each day. Individuals from all backgrounds utilize chiropractic care to help achieve relief from pain or a specific injury naturally.If you're ready to try chiropractic care for the first time and are in St. Paul, MN, our team at St. Paul Chiropractic & Natural Medicine Center is eager and ready to serve you the minute you walk through our doors.
Importance of the Spine
Chiropractic care is centered around realigning the spine. The human spine contains nerve endings that reach many different parts of the body. Due to this, chiropractic care can help treat a wide range of issues with the body. Through spinal manipulations and adjustments, our experienced chiropractors will work to get your spine back into proper alignment. In turn, you'll begin to experience natural relief from the pain or injury that you're dealing with. Additionally, spinal adjustments help individuals with their balance and can even boost your range of motion as well. By utilizing chiropractic care to keep your spine aligned, you'll see significant improvements in your overall health.
Treatments for Diverse Conditions
The reason that chiropractic care has become so popular is because it is an effective treatment option for a wide range of conditions. Chiropractic care can help individuals experience a smooth pregnancy. For those that struggle with constant headaches, chiropractic care may be just what you need. Other conditions that chiropractic treatment can help with includes:
Neck, Hip or Back Pain
Infertility
Sports Injuries
Asthma
Whiplash
Multiple Sclerosis
Autism
Vertigo
Weight-loss
Many More!
Personalized Chiropractic Evaluation
Now that you've chosen St. Paul Chiropractic & Natural Medicine Center for your chiropractic needs, we can set up your personalized chiropractic evaluation. During this session, you'll meet with one of our qualified chiropractors so that we can get a true understanding of the issues that you're dealing with. From there, we'll develop a personalized chiropractic treatment plan focused on getting you back to full health.
So, if you're eager to try out chiropractic care in St. Paul, MN, look no further than a partnership with St. Paul Chiropractic & Natural Medicine Center. To schedule a personalized chiropractic evaluation with our staff, give us a call today at (651) 644-7207 or email info@stpaulnaturalhealth.com