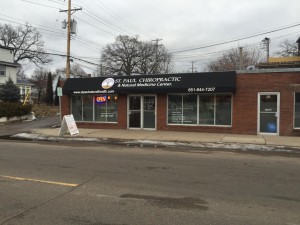 Have you ever felt like you just weren't getting enough out of your medical providers? Ever feel like doctors will give a diagnosis and then almost leave it up to you to treat it? Be it pills or home exercises, sometimes you can just feel abandoned. Overwhelmingly, these thoughts happen more often than not. If you are wanting more for the health and wellness of your body and mind, St. Paul Chiropractic & Natural Medicine Center is here to help. Offering chiropractic care in St. Paul, MN, we want to open a door to new solutions and remedies that will ultimately allow your body to begin to heal.
Chiropractic Care
For those just learning about chiropractic care, it's a method, or art, of medicine that is designed to help heal all different types of ailments based on a patient's nervous system. Chiropractic care is thought to improve your posture as well as circulation, with spinal adjustments that are manipulated by the chiropractor. When this is done, the built up pressure within your spinal cord decreases, reducing some of the ailments and pain that was once there.
Personalized Care
At St. Paul Chiropractic & Natural Medicine Center, we are extremely aware that every patient is different, as well as their needs. This is why our chiropractor and our team will first sit down with you and discuss your wants and needs. We will do a full assessment and screening to help both you and our team determine your specific condition or injury. We then will prepare a plan that helps to specifically relieve your problem right to the source. Unlike other doctors who prescribe medicine to mask the pain, we want to get to the root of the source so that the healing can begin.
Conditions We Treat
There are so many different physical, mental and emotional ailments that benefit from chiropractic care. Here are some of our top conditions that we have successfully treated in previous patients:
● Auto Accidents
● Sports Injuries
● Work Injuries
● Neck and Back Pain
● Headaches and Migraines
● Sciatica and Leg Pain
● Arthritis Pain
● Chronic Disease
● Pregnancy Related Pain and Nausea
● Many More
So no matter what your ailment may be, if you live in St. Paul, MN and you are tired of asking questions but not getting any real answers, let St. Paul Chiropractic & Natural Medicine Center be your go-to source for holistic care. Call us today at 651.644.7204 or send us an email at info@stpaulnaturalhealth.com.