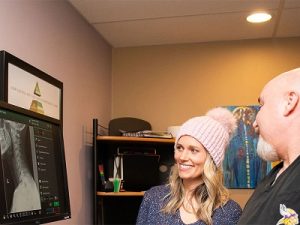 If you suffer from scoliosis, you aren't alone. Nearly 3% of Americans, or over 7 million people, suffer from some degree of scoliosis, which involves an excessive curvature of the spine. While scoliosis can range from mild to severe, extreme cases can cause problems with breathing, back pain, and an uneven appearance. The team at St. Paul Chiropractic and Natural Medicine Center in St. Paul, MN, is experienced at treating scoliosis in a way that is natural, non-addictive, and effective.
Scoliosis is a sideways curvature of the spine. It can lead to diminished quality of life and keep those who have it from fully participating in activities and sports they love due to pain, restricted respiratory function, and diminished self-esteem. Scoliosis is most seen during the growth spurt just before puberty and can lead to potential deformities. Scoliosis can also be linked to cerebral palsy and muscular dystrophy, but the actual cause of scoliosis is still unknown, though it appears to involve hereditary traits. There is no cure for scoliosis, but chiropractic can help relieve pain and improve quality of life.
Natural Treatment For Scoliosis
Chiropractic is used by people of all ages to relieve and manage pain and discomfort, and that includes symptoms of scoliosis. Regular chiropractic care is safe, non-invasive, and non-addictive and is a great alternative to over the counter or prescription pain medication, which are frequently prescribed to scoliosis patients for pain management.
Symptoms Of Scoliosis
Scoliosis can affect people in different ways, but symptoms usually affect quality of life by reducing activity, causing pain, afflicting heart function, or lowering lung function. Because scoliosis is most often seen in teenagers, those who have it also face being made fun of by their peers because of severe spinal deviations. Fortunately, 4 out of 5 people with scoliosis curves are less than 20 degrees, so they are not easily detectable by the untrained eye. Those small curves aren't usually cause for concern, especially when they don't have any indicators of further progression. However, mild curvatures can worsen quickly in young children so frequent checkups are recommended.
At St. Paul Chiropractic and Natural Medicine Center, our chiropractors provide gentle, effective, and targeted chiropractic adjustments. These manipulations reduce joint restrictions and misalignments in the spine and other joints to reduce inflammation and improve function to the affected joint and the nervous system. Contact us online to schedule a consultation with a member of our Chiropractic team. The doctors stand ready to help you and your family live a happier, pain-free, life! Call us today at (651) 644-7207.