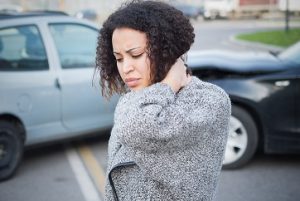 Car accidents often happen in a flash. You don't have enough time to react to avoid the other car involved in the accident. Additionally, the sudden impact doesn't give your body enough time to prepare for the sudden impact. In turn, car accidents are one of the leading causes of bodily injuries in the United States. After a car accident occurs, individuals have a lot on their mind trying to navigate the damage to their car and dealing with the insurance companies. It's extremely important, however, that they don't forget about the damage to their body. Even if you don't feel like you are injured, you may notice the pain after the adrenaline in your body diminishes. If you are looking for a way to quickly get evaluated medically after a car accident, our team at St. Paul Chiropractic & Natural Medicine Center is here to help. We specialize in providing chiropractic care after a car accident.
Chiropractic Evaluations
Once you reach out to our experienced team of chiropractors, we'll quickly set up an appointment for a chiropractic evaluation. During this evaluation, we'll take a look at every aspect of your body to identify any potential injuries that may have occurred. From there, we will create a personalized chiropractic treatment plan designed to get your body back to full strength naturally. Rather than prescribe medication for temporary pain relief, we'll incorporate effective chiropractic adjustments that will speed up the healing process and help you achieve natural pain relief.
Whiplash Experts
One of the most common injuries from a car accident is whiplash. The sudden impact that your body wasn't ready for often causes your neck to be thrown away from your body as it sways back and forth. This sudden movement can cause your neck to strain as it applies large amounts of pressure on the muscles, tendons and ligaments of your neck, shoulders and back. Oftentimes, you may not feel any whiplash symptoms until a few days after the car accident. The quicker our team provides our proven chiropractic adjustments on your body, the quicker you can overcome the pain from whiplash.
Being involved in a car accident can be a whirlwind. Don't let all of the stressors like the damage to your car cause you to delay getting evaluated medically. If you've been involved in a car accident around St. Paul, MN, give our chiropractic team at St. Paul Chiropractic & Natural Medicine Center a call today to set up an appointment. Contact our chiropractors at (651) 644-7207 or email info@stpaulnaturalhealth.com to learn more about our chiropractic care services after a car accident.