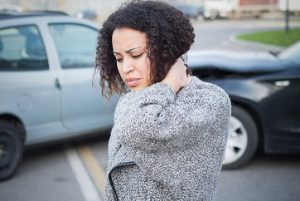 There is no way to prepare for the impact in a car accident. Even a minor bump from behind can leave you very sore. If you have recently been in a car accident, here are some things that you can do early in the process to ensure that you will regain optimal health in the shortest time possible.
1. Take care of any acute injuries first: After an accident, it is always important to seek medical treatment for yourself and any of your passengers. Your first priority is always the safety of anyone in the vehicle(s).
2. Move your vehicle out of danger and call police: If you can get out of traffic and move to a safe place on the side of a road (or parking lot), do so. Call the police so that the details of the accident can be documented for your insurance company.
3. Collect information: Try to obtain the personal information of the other person in the accident, take pictures of the scene and any damage to your vehicle.
4. Call your insurance company: Regardless of who you think is at fault in the accident, call your insurance company quickly so that they can begin acting on your behalf in terms of repairs and logistics with the other driver.
5. A car accident can be physically and emotionally traumatizing, and the full impact of the accident may not be felt right away. You may experience pain, soreness, anxiety and many other symptoms days or weeks after the car accident. It is important to pay attention to your body in the days and weeks after an accident to be sure that you recover well and get back to your optimal health without lingering issues.
Chiropractic Treatment After A Car Accident
St. Paul Chiropractic & Natural Medicine Center specializes in car accident injury recovery and rehabilitation. We can help treat whiplash and other neck injuries, back and shoulder pain, headaches and other symptoms of concussions as well as other soft tissue injuries. We use chiropractic adjustments, massage therapy, and other safe and effective rehabilitation techniques to treat your injuries without reliance on pain medication or surgical intervention. Our staff understands how difficult and stressful a car accident can be on your body, but also on you emotionally. We will support your recovery and help you move forward. For more information about our car accident injury recovery treatment options, call us at 651-644-7207 to schedule an appointment.