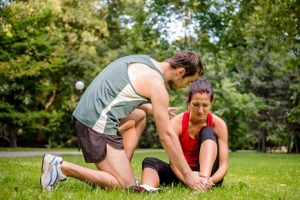 Dealing with an athletic injury can be draining mentally for many individuals. You may be feeling like you are letting your teammates down by not being able to play, or you may feel like you'll never be able to get back to the level you were playing prior to your injury. Before you get too down on yourself, our team at St. Paul Chiropractic & Natural Medicine Center is here to provide you the athletic injury support that can get you back to full strength. How is this possible, you may be wondering? Our medical team specializes in athletic injury therapy for individuals of all ages around St. Paul, MN.
Recovering Naturally is Possible
While you may feel like there is no end in sight with your athletic injury, our dedicated medical professionals are much more optimistic. More and more athletes across the country are relying on natural treatment methods to help them recover from a wide range of athletic injuries. Chiropractic care and massage therapy are two key medical treatments that work very well when it comes to holistic treatment from an athletic injury. We believe that recovering naturally is possible and you don't have to rely on an invasive procedure or pain medication for relief. Additionally, our chiropractic and massage therapy treatments often speed up the recovery process so that you're able to get back out on the field or court with your team.
Personalized Treatment Plans
Another reason why many athletes choose to partner with our medical staff to help with their athletic injury is that they receive a personalized treatment plan. This is not a one size fits all type of treatment. Instead, we'll fully evaluate your injury and come up with a unique medical treatment plan that incorporates chiropractic adjustments and various massage therapy techniques. This simply cannot be matched by other medical professionals in the area.
If you are fed up with being stuck on the sidelines and are ready to recover from your injury so that you can get back into the game, St. Paul Chiropractic & Natural Medicine Center is the ideal partner for you. We have a passion for helping athletes in St. Paul, MN recover naturally from their athletic injuries. We're ready to create a personalized treatment plan designed specifically for you. To learn more, contact our medical team today by calling (651) 644-7207 or emailing info@stpaulnaturalhealth.com.