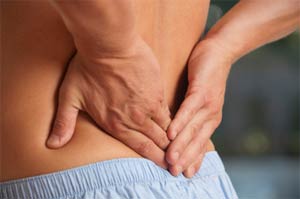 Pain is your body's way of telling you something is wrong. People with leg nerve pain perceive it in different ways. It may feel like aching, numbness, tingling, shocking, or burning. It may be mild and tolerable or excruciating, lasting for a short period of time or chronic over months. Certain activities or body positions can aggravate it. Those who have it want it to go away now.
Sciatica starts in the lower back and buttock, traveling down one leg past the knee into the calf and foot. The pain in the leg will feel worse than the pain in the back. Sitting, bending, and twisting increases the pain, and gentle activity like walking helps bring relief. If the nerve is pinched severely or for a long period, muscles in the leg and foot can become weak causing foot drop.
When And Why Sciatica Appears
This type of leg pain is most common around age 40 to 50, rarely occurring before age 20. It does not usually result from a specific injury but develops over time. Wear and tear processes that cause degeneration of structures, narrowing of openings, inflammation and bulging of discs, and overgrowth of soft tissue and bone cause irritation of nerves that exit the spine in the lower back and travel down the leg.
Sciatica Risk Factors
Several risk factors increase the incidence of sciatica. Since 80% of your entire body weight is carried on your lower back, being overweight greatly increases the pressure on your lower spine. Research links smoking with low back and leg pain. Because sitting increases the pressure on the low back discs and muscles it can cause leg pain. Improper body mechanics and repetitive activities like lifting boxes can result in back injury.
Sciatica Leg Pain Treatments
Most sciatica cases can see great relief from chiropractic care. Since sciatica differs in location and cause, the treatments are tailored to you. St. Paul Chiropractic will treat the pain with non-invasive methods that exclude surgery and medication. Your chiropractor will focus on adjusting the spine, allowing for the healing process to begin and reduce irritation.
For more information about our sciatica relief services at St. Paul Chiropractic and Natural Medicine Center, don't hesitate to give us a call. If you are having leg, hip, or back pain in Minnesota, let us help alleviate your pain and get you moving properly once again. Give St. Paul Chiropractic and Natural Medicine Center a call today at (651) 644-7207 or email info@stpaulnaturalhealth.com.