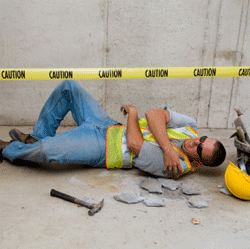 Workers can be injured on the job due to a workplace accident or repetitive movement injury such as carpal tunnel syndrome. When you are in pain and unable to perform your work duties it doesn't really matter at that moment how you were injured. You just want to be pain-free and able to get back to work. A visit to a work injury chiropractor is often the best, first line of defense when you want a natural, drug-free approach to healing. St. Paul Chiropractic & Natural Medicine Center is conveniently located on Randolph and Grand Avenue South in St Paul. Our team is ready to provide you with an injury evaluation, diagnosis, compassionate treatment plan and documentation for your worker's compensation claim. Take work injuries seriously. If not treated correctly, it will linger for the rest of your life.
Workplace Injuries Treated by Chiropractic Care
Driving a commercial truck through traffic, lifting heavy objects, working with machinery or trimming trees are just some of the duties that can put your safety at risk. However, sitting at a desk all day working on a computer can also result in a workplace injury. Repetitive movements or poor ergonomics can result in chronic pain and inflammation. Common work related injuries can often be treated with natural healing techniques provided by chiropractic care.
• Back Pain
• Carpal Tunnel Syndrome
• Chronic Neck Pain
• Pinched Nerve
• Slip and Fall Injury
• Whiplash
• Sciatica
• Herniated Disk
• Tendonitis
• Chronic Headaches
• Sprained and Strains
Chiropractic Treatment for Work Injury
Getting to root cause of your injury is the best way to alleviate the pain and restore mobility. Chiropractic care is somewhat of an art form in the way trained chiropractors can evaluate the underlying cause of the problem and return the body to proper alignment naturally. At St. Paul Chiropractic & Natural Medicine Center we believe in the body's ability to heal and remove pain. Our team provides chiropractic adjustments and massage therapy that are insurance approved treatments for many worker's comp injuries.
Workers Compensation Claims
Minnesota employers are required to carry worker's compensation insurance to provide financial compensation in the case of a work related injury. After a workplace injury occurs, be sure to report the incident to the appropriate supervisor in order to have a record of the incident. Bring your worker's compensation claim form along to your appointment at St. Paul Chiropractic & Natural Medicine Center so that we can make sure that you get the care that you deserve.
Work Related Injury Recovery Center
You can trust the team at St. Paul Chiropractic & Natural Medicine Center to provide you with the highest quality care and professionalism. Nobody should have to suffer from pain or loss of work after sustaining an injury while doing their job. As a work related injury recovery center, our all-natural approach to healing can provide a safe, drug-free solution.
St. Paul Chiropractic & Natural Medicine Center is the place to be for Work Related Injury Recovery at: (651) 644-7207.