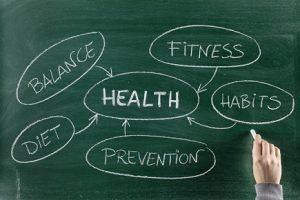 For many of us, 2020 has been a year of stress and struggle. While the first few months of 2020 were rocky and unpredictable, it's time to reign back in the things that we can control and start working back towards optimal wellness. Whether you've struggled with weight management all of your life or these past few months have led you down a road that you just can't seem to overcome, St. Paul Chiropractic & Natural Medicine Center is here to meet you  and get you back on track to achieving optimal wellness that includes life long weight loss.
Health Risks of Obesity
So why would it be so important to be healthy during a pandemic? According to the CDC, those with a body mass index of 30 or higher are considered obese and are at an increased risk of severe illness should they contract COVID-19. Other conditions that the CDC has listed include coronary artery disease, type two diabetes, cerebrovascular disease and even hypertension. All of those conditions can be correlated back to health risks of being overweight. It is now more important than ever to take control of your weight and overall health. Fortunately, there has never been a better time for you to start our lifetime metabolic program for fat loss.
Life Long Weight Loss Program
Weight gain and loss can look different for everyone. Weight gain is caused by a variety of reasons and therefore, no patient should ever be treated the same. Here, we utilize genetic testing so that we know exactly how best to treat you. We talk to you about your lifestyle and customize a program that is appropriate for you. Finding the right routine that promotes weight maintenance and optimal health is our ultimate goal. Worried about a rigorous workout schedule? Don't worry. Our program is not at all exercise dependent. Again, we will find what works best for you! Worried about taking a pill or starving yourself? Once again, we want to do this naturally. We will not try to skim you with meal replacements, fake foods or prescription drugs with negative side effects. We believe that optimal health can come from whole, healthy foods that you can enjoy!
Ready to learn more about weight loss in Minnesota? For questions about our program here at St. Paul Chiropractic & Natural Medicine Center, feel free to contact us today. Call us and make an appointment for a free consultation today at 651-644-7207 or send us an email at info@stpaulnaturalhealth.com.