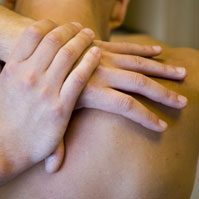 There are many types of massage therapy, all offering different types of relief. The benefits of massage therapy are extensive, and these depend on the type of massage you receive. With that in mind, when looking for a massage therapist, you should we sure you're getting help from someone who understands the different types of massage therapy. That way, you can be sure you're getting the most out of your massage and that you're getting the best massage for your needs. At the St. Paul Chiropractic and Natural Medicine Center, we specialize in massage therapy treatments for stress relief, injury recovery, pain relief, headache treatment, and more. With that in mind, we can help you decide which type of massage is best for you and give you the relief you need.
Swedish massage is intended for full-body relaxation and tension relief. This type of massage is great for full-body tension relief and stress relief for that reason. This massage can also be helpful for injury recovery and treating chronic pain. Typically, Swedish massage involves broad strokes, but it can also incorporate smaller strokes in targeted areas.
Deep tissue massages are targeted massages that focus on areas that are particularly problematic. If you're suffering from pain in a specific area, including injuries or chronic pain, deep tissue massage will likely help ease pain. It can be useful in treating repetitive stress injuries, arthritis, carpal tunnel syndrome, and more.
Sports massage can be used both to prevent sports injuries and treat sports injuries. They are also beneficial for improving flexibility and performance, help athletes recover from sports events and help improve training results. Massage helps improve circulation, reduce inflammation, and increase flexibility and range of motion, which are all perfect for athletes!
Prenatal massage is perfect for many expectant mothers. Pregnancy massages can promote relaxation by relieving stress, reducing muscular and nervous tension, and relieving pregnancy pains. If you suffer from back pain, swollen ankles and limbs, tender joints, or other pregnancy pains, massage can help! And you'll have a natural medicine professional administering your treatments, so you have no cause to worry.
Using reflex areas in the hands and feet, reflexology massage therapy relieves tension in specific areas of the body. This can target the nervous system, stimulate endorphins, reduce stress, relieve pain, and more. This type of massage is perfect for anyone, including athletes, pregnant mothers, and those seeking stress relief.
To learn more about the different types of massage therapy, contact the St. Paul Chiropractic and Natural Medicine Center today. Our St. Paul, Minnesota massage therapy experts can help you understand the benefits of each type of massage. From there, it's up to you just how much you want to get out of your experience! Contact us at 651-644-7207 or info@stpaulnaturalhealth.com, and see how massage can help you.