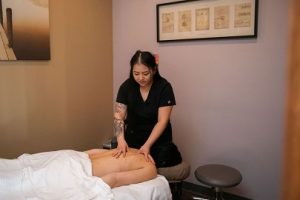 They may be small, but trigger points can cause a lot of pain. You're rubbing a sore muscle and suddenly flinch in pain. Ouch! Why does that one tiny spot hurt so much? Chances are, you've developed a trigger point. Trigger points and other myofascial pains are benign, but the pain they cause can be intense and debilitating. Trigger points will not heal on their own. For relief, you will need to see a massage therapist for a trigger point massage. Luckily, trigger point massage is a simple, non-invasive way to release those tight spots and alleviate your pain.
Myofascial trigger points, often referred to as "knots" are tightly contracted muscles, or a mini muscle cramp, that usually occurs near an injury or irritation. When this contraction occurs, the muscle chokes off its own blood supply which leads to further irritation and discomfort. The result of myofascial pain is usually pain and discomfort in the afflicted area, as well as stiffness and reduced range-of-motion.
What Effect Does A Trigger Point Have On My Body?
Trigger points can cause several problems, like headaches, joint pains, and back pain. Trigger points are most known to affect major joints like the knees, shoulders, and wrists. The pain experienced due to trigger points is often misdiagnosed as arthritis or tendonitis. This condition can also cause other symptoms like nausea, numbness, tingling or feet and hands, dizziness, heartburn, and genital pain.
Preventing Trigger Points
Although benign, trigger points can cause a lot of pain and affect your daily life, so your best course of action is to prevent them from forming in the first place. The good news is that this is possible! You can prevent trigger points through regular stretching and exercise, proper posture, quality sleep, and a nutritious diet.
How Long Before I Start Seeing Some Results?
Every patient's recovery rate is different. Several factors must be taken into consideration, like pain levels, age, and how long they have endured the condition. The number of trigger points on the body also affects the recovery. Receiving trigger point therapy from a licensed chiropractor who has experience with trigger therapy can result in better management of the condition.
Trigger Point Massage Therapy In St Paul MN
To feel the direct and immediate benefits of massage therapy, call (651) 644-7207 to schedule a massage at our St. Paul Chiropractic and Natural Medicine Center. Take our massage therapy services for a test ride and experience a great massage.