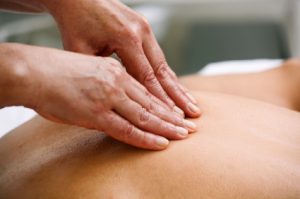 When searching for a massage therapist, you don't want just anyone. Stress is truly the silent killer, and it's something that should be taken seriously when seeking treatment. Not all massages are capable of relieving stress the way you might need, and it can be difficult to know where to find a great massage. When dealing with your physical and mental well being, it's always best to consult a professional natural medicine doctor. Rather than paying for a massage at a spa focused on selling products and booking appointments, trust in massage therapists who have your health in mind. At the St. Paul Chiropractic and Natural Medicine Center, we provide stress relief through massage therapy, offering several types of massage to help you lead a stress-free life.
How Massage Therapy Relieves Stress
If you've had a great massage before, you likely know that massage therapy can relieve stress. You might not understand how, though. To understand how massage therapy relieves stress, you have to get a glimpse into what massage does to the body. Depending on the type of massage you receive, each of your body's systems can be targeted in their own ways. Massage can target the circulatory, respiratory, lymphatic, nervous, and muscular systems. That means several of your body's functions that are achieved in these systems can be optimized with massage! Stress is often connected to issues in the nervous system, which massage is great at targeting and treating!
Additional Benefits of Massage Therapy
In addition to relieving stress, you might be curious to know about additional common benefits of massage therapy. After a massage, you can look forward to experiencing any number of these benefits. Some of them will be achieved as a direct result of massage, and others are linked to reduced stress, which is an effect of massage!
• Headache and migraine pain relief
• Physical pain relief
• Improved circulation
• Increased range of motion
• Decreased inflammation
• Arthritis pain relief
• Pregnancy pain relief
Whether you're only looking for stress relief or not, consider whether there are any other benefits you want from massage. Your massage therapist can recommend the best type of massage for you based on your physical and mental needs!
Types of Massage Therapy
Every massage therapist will offer different types of massage therapy, but common massage types include:
• Swedish massage
• Deep tissue massage
• Soft tissue massage
• Sports massage
• Pregnancy massage
• Reflexology
If you need stress relief or could benefit from massage therapy in some other way, don't hesitate to call the St. Paul Chiropractic and Natural Medicine Center. Our St. Paul, Minnesota massage therapists are experts in providing stress relief through massage, and we can help you achieve full-body wellness. To speak with our stress relief experts, call us today at 651-644-7207, or email info@stpaulnaturalhealth.com for more information about stress relief through massage.