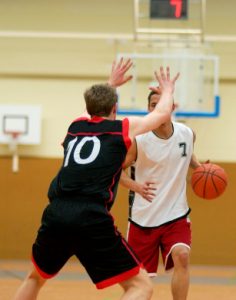 St. Paul Chiropractic & Natural Medicine Center offers a wide variety of therapies for treatment of sports injuries. Our staff always recommends being physically active, and if you have the capacity to participate in sports of any kind, you should. Sports can sometimes result in a wide range of injuries, from acute injuries (sprains, breaks, tears, and strains) to chronic injuries (such as repetitive use injuries and arthritis). If you are suffering from a sports injury, our highly qualified staff will work with you to determine a personalized strategy for helping you recover, so you can get back out participating in the activities you love as quickly as possible.
Not every chiropractic technique will be appropriate for your injury. Our method is to confer with you, gather as much detail as possible about your specific sports injury, and determine the best way to treat your injury. You may benefit from a chiropractic adjustment, nutritional therapy, or massage techniques that are tailored for sports injuries, or some combination of these treatments.
Recovery After a Sports Injury
Our approach to treating your sports-related injuries can help you return to your competitive arena of choice more quickly. Chronic pain from injuries can often benefit from periodic massage, and our massage therapists are trained specifically to provide relief for sports-related injuries. Massage is an excellent treatment for very active athletes, who are more likely to develop chronic pain. Massage therapy helps to relieve pain and reduce the inflammation that causes it. Massage therapy has the added benefit of increasing blood flow to the injury area, which can provide immediate relief. It also encourages expedited healing.
Sports Injury Therapist in St Paul
Our sports massage techniques not only help you get back to the sports you love, they also encourage many other benefits. Some of those benefits include helping you reduce stress, especially to the injured area. Sports massage can also help you regain energy and better circulation to the injured body part. The benefits of participating in sports are well known. Our massage therapists can help you get back to your sports more quickly after you have sustained an injury.
Massage and Chiropractic Therapy for Sports Injuries
We know that sports are integral to many people's lives, and that engaging in sports contributes to your overall wellness. Wellness is arguably the most important long-term goal we should all pursue. If playing sports is important to you, we can help you get back to your sport faster when injury interrupts your participation. Contact St. Paul Chiropractic & Natural Medicine Center at 763-541-1280 and we will be happy to answer any questions you may have and schedule an appointment for you.