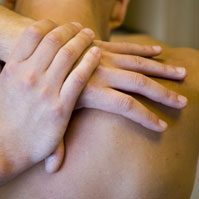 Looking for a skilled St. Paul massage therapist in the St. Paul area? Look no further than St. Paul Chiropractic & Natural Medicine Center. Our goal is to provide you with life and health enhancing effects through natural healing, including massage. If you feel like you are suffering and need to find relief, find it with one of our skilled massage therapists at St. Paul Chiropractic & Natural Medicine Center.
Experienced Massage Therapists
For 17 years, we have been serving the St. Paul community with innovative massage techniques and listening ears. Our massage therapists are friendly, experienced, and skilled. Each time, we want you to feel better walking out than when you walked in. Since we believe in our work and the difference we make in your health and general mood, we offer an introductory massage rate of only $59.
Not Your Ordinary Massage
Unlike many deals you may see online or on TV, we are not a commercial massage business. We don't plan your massage based on the times we have allotted. We plan your massage based on what you need. While we do offer relaxing and satisfying massages, our skilled massage therapists are here to provide you with an effective treatment plan to help with your everyday aches and pains. We will listen to you and discuss both your physical and mental health concerns. From there, we will come up with an exclusive plan that will benefit you and your health. This is not a standard massage at the mall. This is a massage done by experienced professionals to help you heal.
Massage Plans
We have many different options for patients seeking a skilled massage therapist. While some may benefit greatly from minimal treatments, others may need long term care. We treat both physical and mental pains. From chronic illness to just a simple ache, our massage therapists will take their time to find the perfect solution for your body. We will evaluate the need for soft vs. deep tissue massages, and work with your body to positively affect all of your systems from muscular and nervous to lymphatic, circulatory, immune systems. Massage therapy has also shown that it has many positive effects for stress, anxiety, and depression. Having a skilled massage therapist in your corner is an invaluable part of the healing process.
For more information on a skilled massage therapist in St. Paul, MN, contact St. Paul Chiropractic & Natural Medicine Center today at 651-644-7207 or by email as info@stpaulnaturalhealth.com. Take control of your health and call us today!