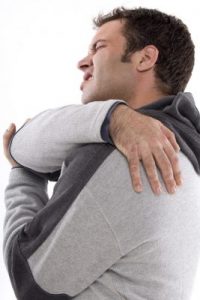 When you're suffering from shoulder pain, it can be one of the most difficult types of pain to manage. Not only is your range of motion typically hindered when you're suffering from a shoulder injury or shoulder pain, it can take you longer to heal from a shoulder injury simply because you use your arms, neck, and shoulder so frequently. One of the best ways to treat shoulder injuries and shoulder pain is to visit a chiropractor who's capable of diagnosing the cause of your shoulder pain and treating it at its source. At the St. Paul Chiropractic and Natural Medicine Center our St. Paul, MN chiropractors won't send you on your way with pain medication or anti-inflammatories; we'll provide lasting natural pain relief and help you fully recover from any injury or strain on your shoulder.
Common Causes of Shoulder Pain
If you don't already know what's causing your shoulder pain, or you're not aware of any injuries that may have resulted in the shoulder pain you're experiencing, it may be time to think about the possible causes of your shoulder pain. Our chiropractors are adept at diagnosing and treating a wide range of shoulder injuries and conditions that contribute to shoulder pain, and with our help, you can get a better understanding of why your body is in pain and how you can find relief. Some common causes of shoulder pain include:
• Rotator cuff injuries, including tears, strains, tendinitis, and bursitis (fluid buildup in the joint)
• Frozen shoulder, which includes a decreased range of motion due to excess tissue buildup
• Thoracic Outlet Syndrome, which deals with the blood vessels, nerves, and muscles from your back to your arms.
• Osteoarthritis
• Tendon sheath inflammation
• Fibromyalgia
There can be more causes of shoulder pain, and to fully understand the symptoms of these disorders, conditions, and injuries, reach out to our natural medicine doctors to gain a better understanding of how one of these may be affecting your shoulder.
Chiropractic Adjustments for Should Injuries and Pain Relief
Depending on the type of injury or condition causing your shoulder pain, chiropractic adjustments may be all that's needed to heal a shoulder injury or provide lasting shoulder pain relief. With an adjustment, we'll be sure that your spine is fully aligned, which can reduce muscle and nervous tension throughout the shoulder area, if necessary.
Massage Therapy and Physical Therapy Shoulder Pain Relief
If you're in need of a more rehabilitative treatment plan to heal a shoulder injury or provide lasting shoulder pain relief, the chiropractors and massage therapists at the St. Paul Chiropractic and Natural Medicine Center will work with you to create a physical therapy or massage therapy treatment plan. Contact our St. Paul, Minnesota chiropractors at 651-644-7207 or info@stpaulnaturalhealth.com to stop living with your shoulder pain and start finding relief.