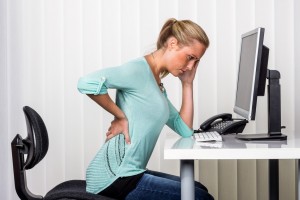 Are you currently experiencing pain from a repetitive task that you do on a regular basis? This pain could be caused by the repetitive motion itself or from an improper technique being used. At St. Paul Chiropractic & Natural Medicine Center, we specialize in providing natural pain relief from repetitive stress injuries.
Facts About Repetitive Stress Injuries
The good news is that repetitive stress injuries can often be treated by a medical professional. For the more severe cases that have turned into arthritis, our expert medical team at St. Paul Chiropractic & Natural Medicine Center can create a customized treatment plan to properly manage the pain and other symptoms that you may be experiencing. Did you know that there are more than 3 million repetitive stress injuries documented annually? As an individual, it is important for you to act on the injury that you've experienced. The last thing that you want to do is ignore it, because it can get worse if there's no treatment put in place. Common symptoms to look for when it comes to repetitive stress injuries include tingling, stiffness, and tenderness in the affected area.
Effective Repetitive Stress Injury Treatment Options
At St. Paul Chiropractic & Natural Medicine Center, we focus on providing natural pain relief options for those suffering from repetitive stress injuries. Rather than relying on pain medication or seeking an invasive procedure, natural medical treatment may be all that you need. The first step is for you to contact our team so that we can evaluate your repetitive stress injury. The best part about this evaluation is that it is absolutely free! You can't beat the opportunity to have your repetitive stress injury evaluated by medical professionals at no cost to you. Once you've been evaluated, we'll incorporate holistic treatment options such as chiropractic care, massage therapy, exercise instruction and fitness counseling, electrical stimulation, physiotherapy, nutritional supplements, etc. The end goal is for you to achieve natural relief from your repetitive stress injury. In turn, you'll be able to maximize your overall natural health.
Repetitive stress injuries can be extremely aggravating to deal with. They can also be very painful as well. If you are ready to take the important step of being evaluated by our dedicated medical team at St. Paul Chiropractic & Natural Medicine Center, all you need to do is pick up the phone and give us a call. To learn more about our natural treatment options for repetitive stress injuries, contact us today at (651) 644-7207.