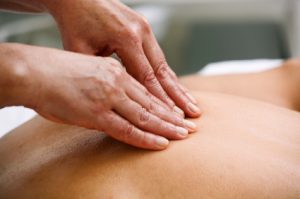 Do you have some aches and pains that you just can't seem to get rid of? If so, you likely could benefit greatly from a quality massage therapist near you. At St. Paul Chiropractic and Natural Medicine Center, we have a team of skilled massage therapists who can help you to focus on loosening tight muscles and getting back to living your life to the fullest.
Benefits of Massage Therapy
At St Paul Chiropractic and Natural Medicine Center, we believe in massage therapy and its many benefits, a few of which we've listed below:
Reduces pain – Massage therapy can be a great way to help those who may be suffering from chronic neck or back pain. A quality massage therapist can help you to target areas of your body that may be contributing to your pain.
Stimulate soft tissue – A massage can help to stimulate your body's soft tissue, which can help release toxins through stimulating your lymphatic system. This is why massage therapists will often suggest that you drink a lot of liquids after your massage to help the toxins be released.
Reduces stress – Studies have shown that a massage can have prolonged benefits when it comes to reducing your stress levels.
Improves sleep – A massage can help to loosen your muscles and help you fall into a deep sleep. In addition, you'll likely wake up refreshed and energized the day after a massage.
Reduces swelling – Do you suffer from edema or any other disease that can lead to increased swelling? If so, massage therapy can help to reduce this swelling. Those suffering from swelling often have water trapped in their body's tissues. A massage can help to stimulate various areas of your body, which helps to reduce the amount of water and in turn swelling.
More energy – Because massage therapy often improves sleep patterns, it also helps to reenergize individuals as well.
Relaxes muscles – One of the more common benefits of massage therapy is the fact that it helps to loosen muscles, which can help you to be more relaxed during and after a massage.
Interested in Learning More About Massage Therapy from St. Paul Chiropractic and Natural Medicine Center?
If you're ready to get rid of chronic pain and feel more relaxed, now's the time to give the team of experienced massage therapists at St. Paul Chiropractic and Natural Medicine Center a call today. We can be reached by phone at 651-644-7207 or via email at info@stpaulnaturalhealth.com to schedule your massage appointment.