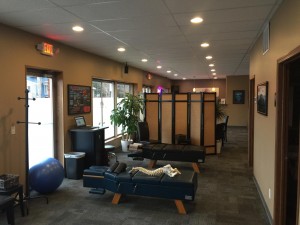 Relax, you're in good hands. A Trained Massage Therapy Professional may provide you with relief from back pain, depression, muscle aches, headaches, stress, fibromyalgia and symptoms from cancer and a whole list of other conditions. There has been much research on the effectiveness of massage therapy techniques such as Deep Tissue Massage, Pressure Point Massage and Auto Accident Massage. You are welcome to do a little of your own research by taking advantage of a $59 Introductory Massage Special at St Paul Chiropractic & Natural Medicine Center.
Deep Tissue Massage Technique
Deep-Tissue Massage can be very effective when utilized for several different health conditions. During the massage, your massage therapist uses is likely to use his/her fingers, elbows or knuckles to apply pressure to deep layers of muscles and fascia tissue.
Deep-Tissue Massage Technique requires a patients and skill on the part of the massage therapy professional. Tightened muscles and fibrous adhesions are carefully released through slow, firm strokes.
Reported benefits of Deep Tissue Massage include:
Stress Relief
Improved Lymphatic Circulation
Reduced Chronic Pain
Improved Blood Pressure
Sports Injury Rehabilitation
Pressure Point Massage Technique
The human body has hundreds of pressure points that can respond to Pressure Point Massage Technique. Many of these pressure points are found within soft tissue near joints. Your massage therapist can skillfully apply pressure to alleviate pain, improve circulation and release tension. This technique is often used for patients with cancer, arthritis, depression, back pain or headaches.
Acupressure Points can be located in these areas:
Spine
Neck
Feet
Hands
Wrist
Achilles Tendon
Auto Accident Massage
An auto accident can have widespread impact on your body. Whiplash, back pain and joint pain are some of the most common injury complaints. Massage Therapy can be one of the most effective forms of treatment in the days, weeks, months or years following a car crash.
Auto Accident Massage can be utilized effectively to:
Relax Muscle Spasms
Restore Flexibility
Relieve Back Pain
Relieve Headache Pain
Rehabilitate Whiplash Injury
Release Nerve Compression
Rejuvenate Immune System Function
Saint Paul Massage Therapy & Natural Medicine
If you have been in an auto accident, have chronic pain or suffer from depression or are recovering from an injury, St Paul Chiropractic & Natural Medicine Center can help. We provide several different massage techniques that have been linked to many different health benefits including the conditions listed above. Deep Tissue Massage, Pressure Point Massage or Auto Accident Massage may be utilized to treat your individual injury or condition.
In St Paul MN, call St Paul Chiropractic & Natural Medicine Center to schedule an appointment for a $59 Introductory Massage at: (651) 644-7207.