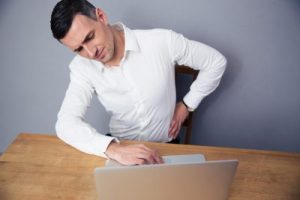 Herniated discs, or what are commonly referred to as "slipped discs," can be exceptionally painful, limiting range of motion in the spin and extremities, and causing undue stress on the entire body. If you're suffering from a herniated disc, chiropractic care is the most natural treatment method available that will help to realign your spine, including your herniated disc, improve range of motion, provide you with lasting pain relief, and much more. When you visit the St. Paul Chiropractic and Natural Medicine Center, we'll help you understand the causes of your herniated disc, help you avoid further injuring your back or other areas of your body, provide pain relief throughout your entire body, and ultimately ensure that your herniated disc returns to its natural position between your vertebrae. Our St. Paul, MN chiropractors have years of experience treating herniated discs, and we'll ensure that you receive the treatment that's right for your body, creating an individualized treatment plan that takes into account your symptoms, lifestyle, and pain so that we can provide effective and lasting treatments.
Symptoms of a Herniated Disc
Herniated discs are most common in the lower back, also known as the lumbar spine, and are typically very painful, debilitating injuries. However, a herniated disc can also be located in the neck, or the cervical spine, and it's important to be aware of the symptoms associated with your herniated disc in order to understand where it is located, what may have caused your herniated disc, and what the best treatment methods and pain relief techniques will be for your body. Symptoms of a herniated disc can often include arm or leg pain, particularly if you have a herniated disc in the lower back, as well as shoulder and arm pain, which is typical when a herniated disc is located in the neck. However, this pain does not necessarily remain localized; when your body moves in certain positions, you may feel a shooting pain throughout your body, especially when coughing, sneezing, or otherwise moving your spine into stressful positions. Other symptoms of a herniated disc include numbness or tingling throughout the body and overall weakness in the muscles.
Chiropractic Adjustments for Herniated Discs
Because herniated discs affect your spine, muscles, and nerves, it is an injury that is typically entirely treatable with chiropractic care. When you're suffering from a herniated disc, it will create nervous tension throughout your spine and other areas affected by the shift in your spine, which will in turn negatively affect the muscles in that area. Chiropractic adjustments are able to treat muscular, skeletal, and nervous tensions, targeting every issue area of a herniated disc. To find out more about how chiropractic care may help to heal your herniated disc, contact our St. Paul, Minnesota chiropractors at the St. Paul Chiropractic and Natural Medicine Center. Contact us 651-644-7207 or info@stpaulnaturalhealth.com, and find out how simple it can be to heal completely from a herniated disc and get back to living a healthy, pain-free life.