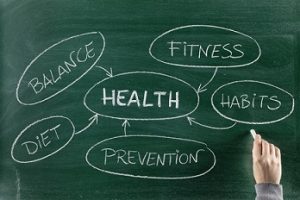 At St. Paul Chiropractic & Natural Medicine Center, we understand that there are some powerful forces at work in our society that cause too many people to attempt to lose weight for the wrong reasons. We currently live in an era when the standards of beauty reward a certain body type. Even though we may be moving away from this, weight loss remains an issue that must be dealt with. Obesity has been an issue in the US for years. We believe that our staff can help you deal with it in a healthier and more health-oriented way giving you long lasting results.
One outcome of living during a time of pandemic is that many people having been forced to work from home and limit their activities outside of their homes, have gained weight. Weight gain is a natural part of getting older, but it does not need to be an unhealthy part of the aging process. We have helped many clients learn to operate on the healthier part of the health spectrum as it relates to weight gain.
Health Risks Associated With Being Overweight
There are real health risks associated with unhealthy weight gain, and one of our most deeply held values is to put our professional acumen to work for the maximum health of our clients. It is in that spirit that we offer services to help clients lose weight in healthy and sustainable ways. The risks associated with unhealthy weight gain are simply too numerous and too threatening to go untreated.
Excess weight is closely associated with the increasing rate of incidence of Type 2 Diabetes, which has in recent decades has become one of the greatest health threats to American citizens. Our weight loss program can offer significant help for people in need of healthy weight loss strategies to help prevent Type 2 Diabetes.
Being at an elevated weight can also cause high blood pressure, which is associated with both heart attacks and stroke. Working with our staff can have the effect of helping you avert the potentially catastrophic effects of both. Elevated weight can also cause heart disease, which can place a person at great risk of premature death. Being overweight is also associated with sleep apnea, which has the immediate effect of adding to an individual's daily fatigue level. Sleep apnea can also have more serious effects, including increasing the potential for atrial fibrillation, abnormal heartbeat, heart attack and stroke.
Lose Weight In A Healthy Way
If you need assistance losing weight, our knowledge of the practice of natural medicine can help you. Call us 651.644.7207 to set up an appointment to get started – together.