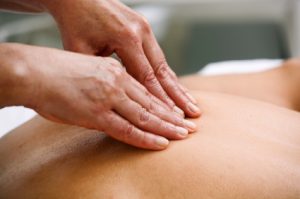 Whether you are needing a massage for routine healthcare, or you are looking to alleviate a certain ailment of your body, St. Paul Chiropractic & Natural Medicine Center is here to help. Our massage specialists are experts in their field, continuously prioritizing your health and comfort so that you can live out your life in optimal wellness. There are so many benefits to massage therapy. Let us work with you to help determine the best course of action, giving you the most positive and productive massage possible. Call us to schedule time with one of our massage therapists today.
Utilizing Massage Therapy For Pain Relief
Massage therapy is both studied and proven to aid in treating physical injuries both acute and chronic. If you have any condition that is affecting the muscle tissue, massage therapy could be extremely helpful to you. If your injury is causing you stress and leading to further physical pain, let our massage therapists know. As we work out both your soft and deep tissue muscles, we will be positively impacting your muscular, nervous, lymphatic, circulatory and immune systems.
Mental Health Improvements With Massage Therapy
While massage therapy is a treatment that utilizes physical touch, physicality is not where it ends. There are so many proven benefits of massage therapy that go beyond physical. Stress, anxiety, and depression are many common diagnoses of this world. Massage therapy helps you to manage your mental health issues and disorders as you relax during a massage. As your body begins to rest and feel better, so do you! Massage therapy helps to physically heal your body so that you can mentally and emotionally be healed too.
So, whether you are getting massage therapy for your mental or physical ailments of life, or just trying to enjoy a routine massage, our skilled massage therapists here at St. Paul Chiropractic & Natural Medicine Center are here to help. Come check out all that our practice has to offer from massage therapy to chiropractic care. Every treatment we offer is made to not only alleviate your body and provide it much needed healing, but to also help you get on the right path to wellness. If you are looking to achieve optimal health, it first starts with caring for yourself. Massage therapy is a great place to start. For more information about our massage therapy services here at St. Paul Chiropractic & Natural Medicine Center, give us a call today. Contact us here at (651) 644-7207 or send us an email at info@stpaulnaturalhealth.com.