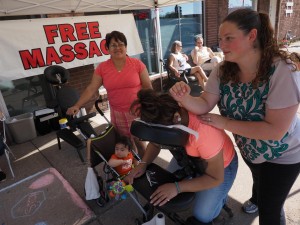 The job market is very hot in the St. Paul, MN area and surrounding suburbs. This means that as a business owner, you have to find ways to differentiate and separate yourself from the competition in the area. Why should a potential employee choose your company over another competitor in the area? Sure, salary is always a part of the decision making process, but employees these days are looking for more than just a nice paycheck. Employees want their employers to care about their well being. One great way for you to show your employees that your care is through wellness events that focus on a healthy lifestyle both at the office and at home. At St. Paul Chiropractic & Natural Medicine Center, we are the partner that you've been looking for to provide you with impactful wellness events that your employees will enjoy.
Wellness Event Options
Providing on-site wellness events at your office shows your employees that you truly care about their health. At St. Paul Chiropractic & Natural Medicine Center, we offer a variety of wellness events that are perfect for the office, including:
● Massages – Let our staff come to your office and perform 15 minute chair massages to help give your employees a mental break. This will give them a few minutes to relax and forget about the stressors that they're dealing with at work or home. Massages have been found to help with anxiety, depression, headaches and blood pressure.
● Health Fair – Let our team handle everything around your company's health fair. We can manage the event, deal with staffing, partners, offer healthy food, rentals and office medical screenings for your employees. With a focus on wellness, your employees will hear about easy ways to live a more healthy lifestyle.
● Focused Workshops – If you are interested in providing health workshops centered around specific areas, our dedicated staff can help! We offer various workshops including Eat Well, Move Well, Think Well, Metabolic Rest – Weight Loss, as well as Chiropractic and You.
So, if you run a business in St. Paul, MN or the surrounding suburbs ,and are looking for a way to set yourself apart from your competitors, consider offering corporate wellness events to your employees. At St. Paul Chiropractic & Natural Medicine Center, we have a passion for encouraging healthy lifestyles and we would love to partner with you to help your employees with their wellness habits. To learn more about our free corporate event ideas, give us a call today at (651) 644-7207 or email info@stpaulnaturalhealth.com.