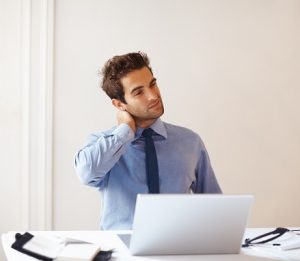 As we enter the new year, people are making resolutions to better themselves. In fact, according to many statistical sources, the top three resolutions are, 1) To exercise more, 2) To eat healthier, and 3) To lose weight. While personal New Year's resolutions may fail, the momentum, excitement, and intentions behind them demonstrate that people have an interest in transforming their health. Why not, as a company, dedicate yourself to bettering the health of your employees from the top-level management down?
In today's competitive employment environment, every advantage can make a difference. Unhealthy employees aren't cheap. Rising healthcare costs, missed time, and lost productivity adds up, both in dollars and cents, as well as morale. More stress means more illness, and more illness cuts into your bottom line. St. Paul Chiropractic and Natural Medicine Center's health fair events and corporate wellness workshops are fully planned, organized, and facilitated face-to-face interaction with top-notch local wellness professionals, on-site screenings, and demonstrations, catered healthy food, and much more!
Health And Wellness Corporate Workshops
Throughout the year, the clinic hosts the "Living Well Series" in our office, or you can schedule to have any of our "HealthTalk Series" workshops held at your location. Workshop instruction includes:
● "Eat Well" – Our clinic provides your team with facts, tips, and good dietary choices that will result in overall improved health.
● "Move Well" – Our staff will show you how 45 minutes a week will make a huge difference.
● "Think Well" – This seminar helps you identify negative behaviors and show you positive changes you can make immediately.
● "Metabolic Rest Weight Loss" – You will be provided with valuable nutrition knowledge to help you sustain weight loss results on a long-term basis.
● "Chiropractic and You: Spinal Rejuvenation Therapy" – This presentation is a comprehensive look at how chiropractic works to help correct and rejuvenate the body.
Schedule Your Corporate Wellness Health Fair Today!
St. Paul Chiropractic and Natural Medicine Center is ready to help you and your management make a difference in your workforce, and help you realize the benefits of focusing on wellness. Whether you are planning a health fair for the first time or coordinate several health fairs a year, you probably face the same challenge: getting your employees to attend, engage, and have fun. Call us at (651) 644-7207 to discuss how, together, we can create a successful event at your business.