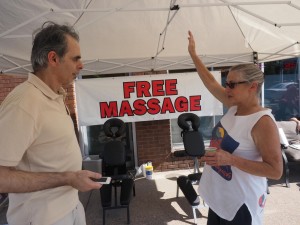 Great health has a direct relation to productive employees. If you run a business and are looking to take the next step towards creating a better wellness program for your employees in St. Paul, MN, our team at St. Paul Chiropractic & Natural Medicine Center is here to help! If your employees aren't healthy, then chances are that they're missing work days, not focused and may end up having to depart from the job permanently because of their health weakening. To help jump-start a new way of thinking at your office, let our dedicated staff help you create a wellness event that will leave a lasting impression on your employees.
Wellness Events in St Paul Wellness
At St. Paul Chiropractic & Natural Medicine Center, we love giving back to the St. Paul, MN community. Within this tight knit community, wellness programs are a win-win for everyone involved. The employees can begin practicing a healthier way of life and the businesses financial performance will increase due to a boost in employee productivity. Some fun and insightful wellness activities that we can offer at your upcoming corporate wellness event include:
● On-Site Office Chair Massages – Who doesn't love a massage? Better yet, who would pass up a complimentary massage session in one of our massage chairs while you are on the clock! This 15 minute break at work can help decrease work stress, boost awareness and increase productivity.
● Health & Wellness Workshops – Consider allowing us to present our Living Well Series to your employees to help encourage a healthier way of living. This presentation focuses on eating well, moving well, thinking well, our metabolic rest weight loss method and an introduction to chiropractic care.
● Health Fair – Let us bring our expert wellness team onsite for your company health fair. Our professionals will be there to interact on a personal basis and help your employees with any questions that they may have around health & wellness. During this health fair, we can perform on-site screenings, demonstrations and can even provide catered food options that are healthy. There is no work needed by you as the employer, but there are definitely plenty of benefits!
If you are ready to take the next step towards a healthier workplace, partner with our medical professionals at St. Paul Chiropractic & Natural Medicine Center. In turn, you'll see a boost in your company productivity in the year's ahead. Let us provide a wellness event for your St. Paul, MN business today by calling (651) 644-7207 or by emailing info@stpaulnaturalhealth.com.