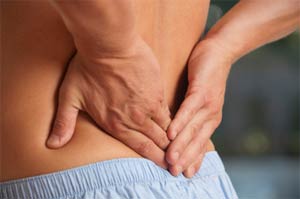 While the weather begins to turn from just plain hot to pleasant and cool, many of us spend more time outdoors. Perhaps we're working in the gardens, raking up the fall leaves, cleaning gutters, clearing out bushes and yard debris, sewing new grass seed, or taking care of some of those other outdoor projects around the home that we've been putting off due to the heat. No matter what, many people spend significantly more hours working outdoors in the fall months. Working outdoors bent over and/or hauling heavy yard debris around can cause some tight muscles in the shoulders, neck, and lower back. The team at St Paul Chiropractic understands this type of tension and can be a great source of relief from the aches and pains that come along with rugged outdoor work.
Mid And Lower Back Pain
People come to us with aches and pains all over their bodies sometimes. The most common injuries relate to the back. Just about every job around the house that is outdoors involves putting a strain on your back. From shoveling, to raking, to bending over in the garden. They all strain the muscles in the back.
Seeking out chiropractic care to handle aches and pains in the back is common. Many chiropractors will perform a spinal adjustment to get your body back into a more proper alignment. If a spine is considered out of alignment, it can cause symptoms ranging from a tingling feeling in a finger to an entire extremity experiencing severe pain.
The Importance Of Good Spinal Alignment
Undue pressure and stress are oftentimes placed on the muscles that support the spine if the spine is misaligned. Massage Therapy is a great (and relaxing) way to relieve the pains and discomfort. Through good quality massage, the body's immune system functions better, the muscles begin to release the buildup of lactic acid, release tension, and as a result, function more efficiently.
Chiropractic And Massage Services To Relieve Back Pain
If you are suffering from aches and pains in your neck, back, or shoulders after laboring outdoors, contact the professionals at St Paul Chiropractic and Natural Medicine in Minnesota. You can call (651) 644-7207, email info@stpaulnaturalhealth.com, or contact us through the website to schedule your consultation appointment. We look forward to getting you back on your feet and feeling great!